Snacks are gifts that everyone remembers when they have the opportunity to visit Saigon; not only are they popular, but they also leave an unforgettable taste in the mouths of visitors.
TP. HCM has the most diverse cuisine in the country, combining specialties from all regions. Many people, including the most discerning gourmets, regard street snacks as iconic.
Sidewalk snacks are inexpensive, but the deliciousness and strangeness of these gifts make it difficult to refuse.
1. Banh trang (Bánh tráng)
Banh trang is regarded as one of the must-try street snacks when visiting Ho Chi Minh City. Visitors feel relieved every time they eat from a variety of rice paper types such as mixed banh trang, baked, rolled banh trang, or dipped banh trang.
Eat without boredom by combining extremely simple ingredients such as banh trang, onions, mango yarn, satay, quail eggs, and vegetables to produce a delicious taste.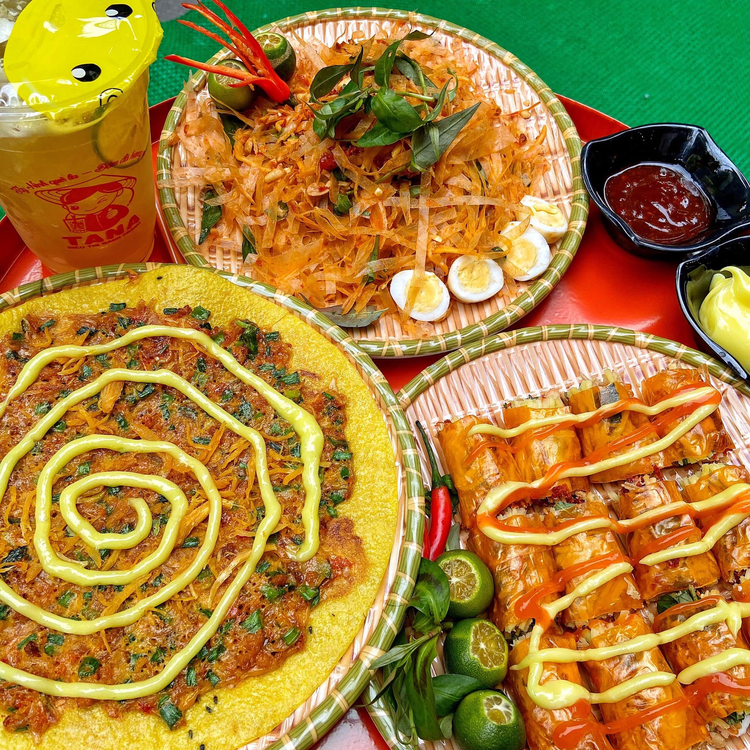 All types of banh trang are appropriate for sipping without becoming bored.
Suggested address:
- Uncle Vien mixed banh trang (Nguyen Thuong Hien Street, Ward 5, District 3)
- Co Nam mixed banh trang (Le Thi Hong Street, Ward 17, Go Vap 2 District)
2. Com chay (Cơm cháy)
Com chay is not well-known in Ho Chi Minh City. However, this is a dish that many visitors choose as a souvenir to bring back with them every time they visit. Saigon com chay differs from other types of com chay in that it is made with an extra layer of salty cotton scrub, filled on the rice surface, making it extremely appealing to many visitors.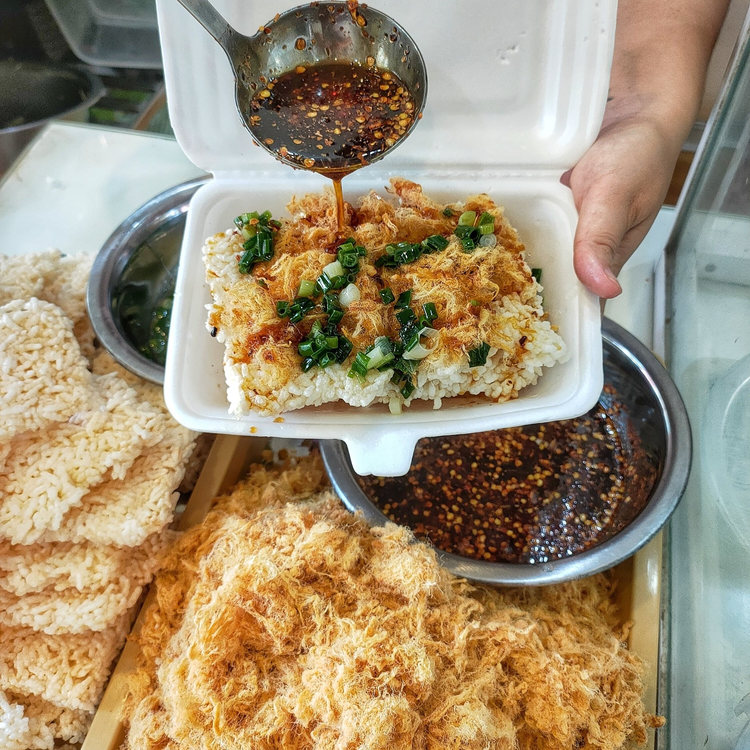 Com chay is cut into small pieces, drizzled with sweet and spicy sauce, and eaten very well in the mouth.
Suggested address:
- Co Ba Saigon Elderberry (Tran Hung Dao Street, Cau Kho Ward, District 1)
- Rice shop (QQ4 Ba Vi, Ward 15, District 10)
3. Snails
HCMC is not a sea, but snails are very popular among the locals. Coming here, you won't have to worry about finding an address because there are rows of sidewalk snails, full of different types of snails, from alleys to large roads for you to choose from. Snails have become a favorite snack for people of all ages because they meet the criteria of being delicious, tonic, and inexpensive.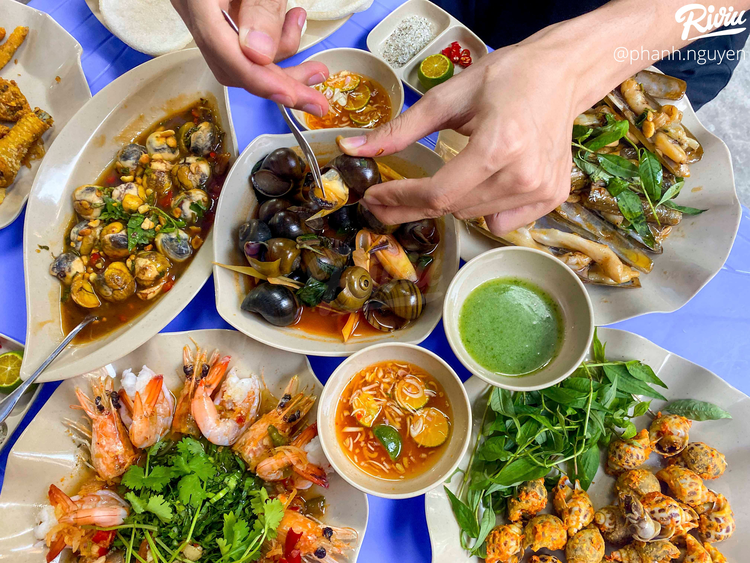 Snails have become a must-try when visiting Ho Chi Minh City.
4. Hu tieu go (Hủ tiếu gõ)
Ho Chi Minh City at night, noodle shops can be found in every alleyway and on the outskirts of the main street. This popular dish is a gift that combines the bold flavors of Saigon's cultural cuisine from ancient times to the present.
Enjoying the distinctive rich noodle soup, soft pork slices that melt in the mouth, and the taste of bare bean sprouts is the kind of sensation that leaves the eater with a lasting impression.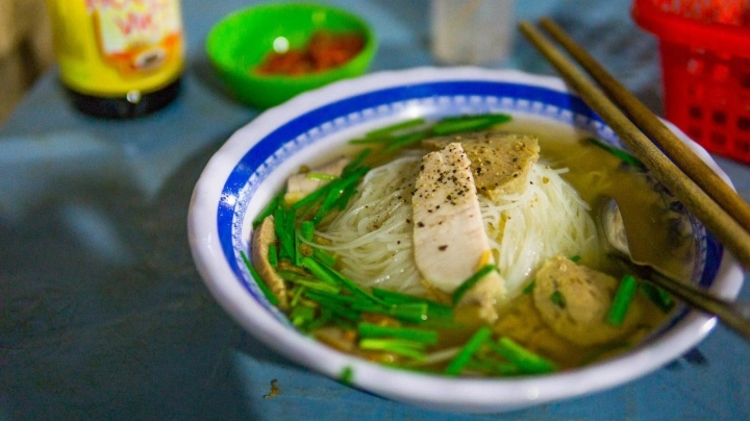 HCM at night is definitely an interesting thing to experience. Eat noodles while typing and watching the city.
Suggested address:
- Pham Van Hai (Ward 3, Tan Binh District)
- Auntie Five Sa Dec (Bui Thi Xuan Street, District 1)
5. Pha lau (Phá lấu)
It derives from a Chinese dish made of animal organs (primarily pig organs) such as the heart, lungs, and small intestine... Until now, the lagoon has become a popular dish among Ho Chi Minh City residents.
Passers-by, from children to the elderly, find it difficult to refuse the aroma of coconut milk mixed in the pha lau.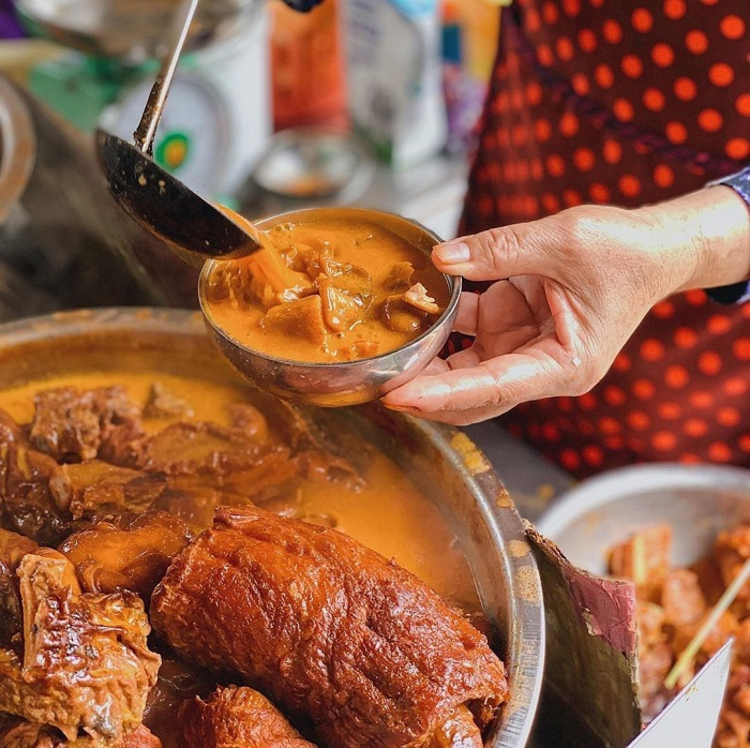 It's usually accompanied by noodles or bread.
Suggested address:
- Phá Lấu Lì (Suong Nguyet Anh Street, District 1)
- Phá Lấu cô Thảo (Ton Dan Street, Ward 15, District 4)
6. Stir-fried corn
It's difficult to resist the sweet aroma of this dish as you walk down the streets of Ho Chi Minh City HCM. The golden corn grains are seasoned to taste, and the more they stir over butter with onion fat, the more addicted they become.
On windy days, everyone desires a plate of hot fried corn fragrant with fatty butter.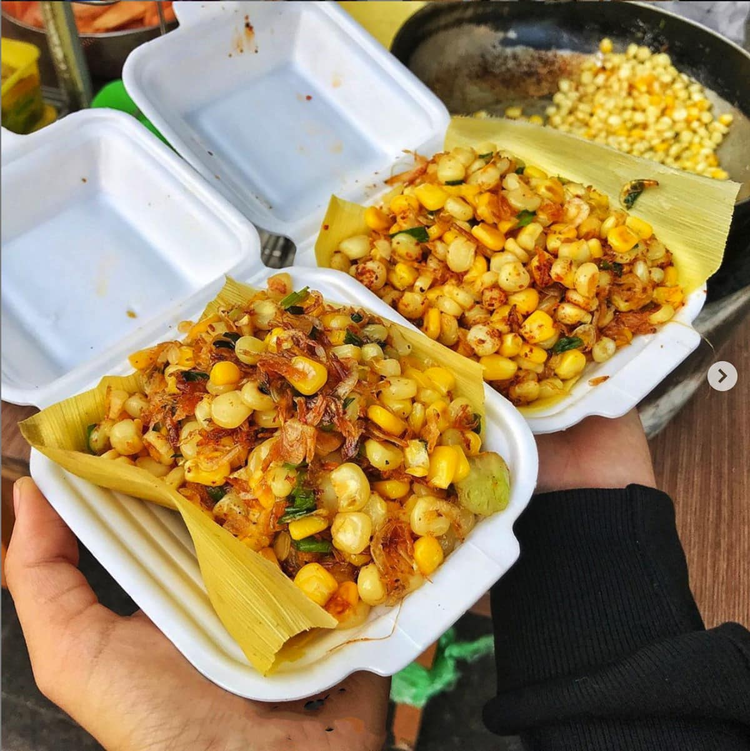 A box of the extremely "chestnut" fried corn costs only 15,000-20,000 VND/box and is suitable for students' pockets.
Suggested address:
- Turtle Lake Stir-fried corn (Co Giang Street, Ward 2, Phu Nhuan District)
- Co Ba - Salted Egg Stir-Fried Corn (Cao Thang Street, Ward 5, District 3)
7. Saigon buttercream
Nothing beats buttercream for summer cooling food in the heat of Ho Chi Minh City. Da Lat and Ho Chi Minh City are both known for their buttercream. This dessert is also considered a culinary symbol in HCM.
A cool, greasy buttercream is a harmonious combination of ground butter and whipped cream, with just enough dried coconut to temper the heat of the HCMC.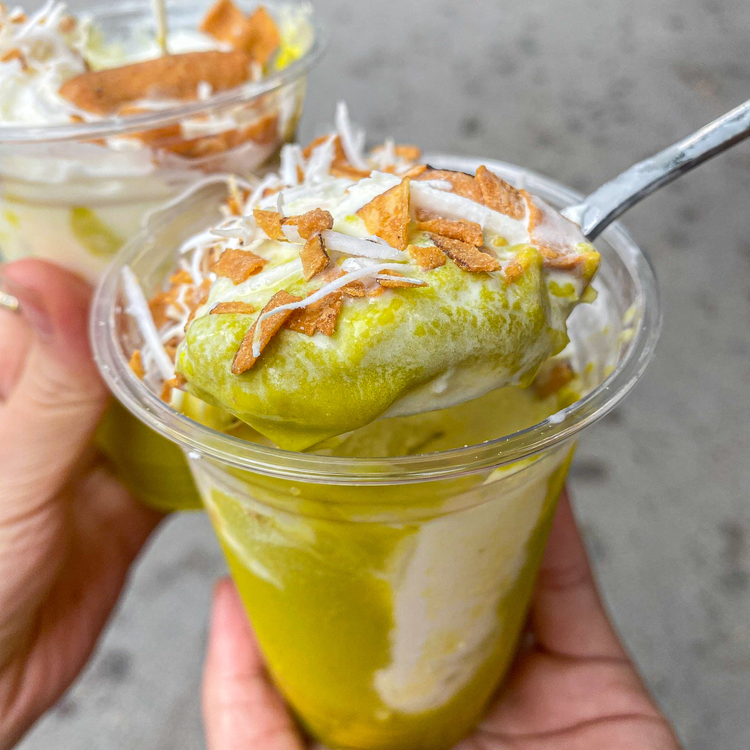 The creamy butter is enough to melt away the summer heat.
Suggested address:
- Avo buttercream (Hoang Sa Street, Ward 5, Tan Binh District)
- Chè Kem Căn Nhà Gỗ (Vo Oanh Street, Ward 25, Binh Thanh District)
Source: Thái Hải, @mysteriousaigon, Linh Nguyen, Wowweekend, Riviu, Duc Tran, Linh Chi.