Regarding Lam Thuong, it felt like I was returning home because I was greeted with cordial greetings and warm smiles, and I was treated to a variety of delicious dishes grown and processed by indigenous people.
ESCAPING THE CITY FOR A MOUNTAIN VILLAGE
People visit Yen Bai primarily to see the rice terraces, eat delicious dishes made from nuggets, and immerse themselves in the refreshing hot spring water. But, thanks to Hoi, a Tay ethnic friend from college, I recently learned about Lam Thuong Valley, a name that many people haven't heard of because it's very wild, peaceful, and, most importantly, untouristed. Many times, I've put work aside to carry my backpack to the remote mountain village to "hide."
On an early winter day, I took a 5-hour sleeper bus from Hanoi to the Luc Yen district of Yen Bai. After another 15 kilometers of zigzagging road in a motorbike taxi, I arrived at Tong Pang (Tông Pắng) village, Lam Thuong commune, which is nearly 260 kilometers from the capital.
It was almost noon because it was 7 a.m., and the villages deep in the Lam Thuong valley gradually appeared before my eyes. There is only one way to get to the valley. People in the village continue to raise livestock in order to be self-sufficient in food. When you visit Lam Thuong, you will see traditional Tay (Tày) stilt houses, streams, and waterfalls deep in the jungle, and even caves and high mountains with few footprints.
If you arrive in Lam Thuong, the majority of visitors will stop at The Xới – Xôi Farmstay. It is also the only homestay where you can experience the life of a genuine Tay ethnic family. She is a 9X Tay girl who has returned to her hometown after many years of learning to travel and work as a guide, transforming her own home into a place to welcome visitors, combining gardening and fish ponds to increase production for her family. As soon as I stepped through the gate, the entire family, from the elderly to the children, greeted me with questions, smiles, and kindness that made me feel at ease.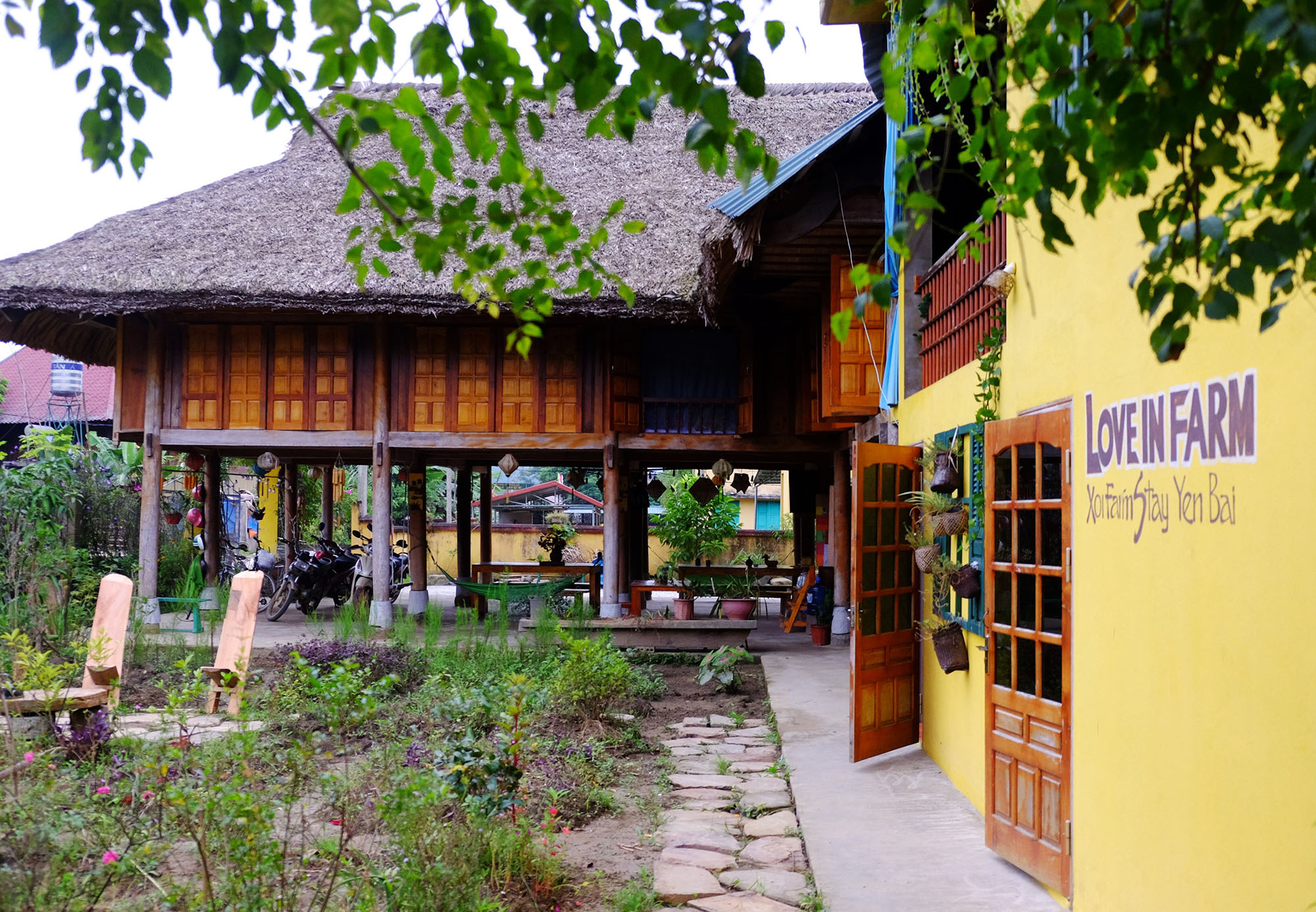 Initially, guests were just friends of the brothers in the house, but as time passed, someone shared and made small tours on their own, and eventually, foreign guests learned about it and chose it as a place to rest and relax. The longer he stayed in his hometown, the more he realized that his home and hometown could become a destination for those who prefer to live slowly, enjoy nature, and seek to rediscover themselves. As a result, she has decided to "escape to her hometown" as a homestay until now. I secretly admire you, one of the young people who dare to be themselves, to build a dream, and to lay the first brick for Lam Thuong to become a destination for those who want to learn about indigenous culture.
DIVE INTO THE PEACEFUL NATURE
On my first day in Lam Thuong, Xới took me to the Nặm Chắn waterfall, which is about 6 kilometers from my house. Because the waterfall water from the watershed flows out, it is very clear and cool, and both villagers and visitors agree that bathing is very enjoyable. People travel to the falls through rice fields, palm trees with umbrellas, and bamboo forests with green bamboo. If you can still see people's houses and flocks of ducks snuggling in the first paragraph, the next paragraph will be just you and the mountains and forests are overgrown with trees. Although the road has improved and can be ridden by motorcycle, most visitors to the falls prefer to trek. We crept into the forest to find the waterfall in the last days of the year, stomping our feet on the rustling dry leaves, following the sound of the Khuoi Luong stream, and then to the big waterfall. We stopped, closed our eyes, and took a deep breath before sitting down on the waterfall to feel the cool water around our feet, and soon saw the small fish come to "massage" us very pleasantly. If you want to push yourself even further, you can climb over large sprawling rocks and swerve through the last dense bushes to reach the top of the falls while watching the saliva splash white underfoot. The sound of the waterfall rumbling and flowing in unison with the sound of birds chirping in the middle of a lush forest. Visitors from noisy cities, like me, want to sit there forever, soaking in the atmosphere and sounds of the mountains and forests.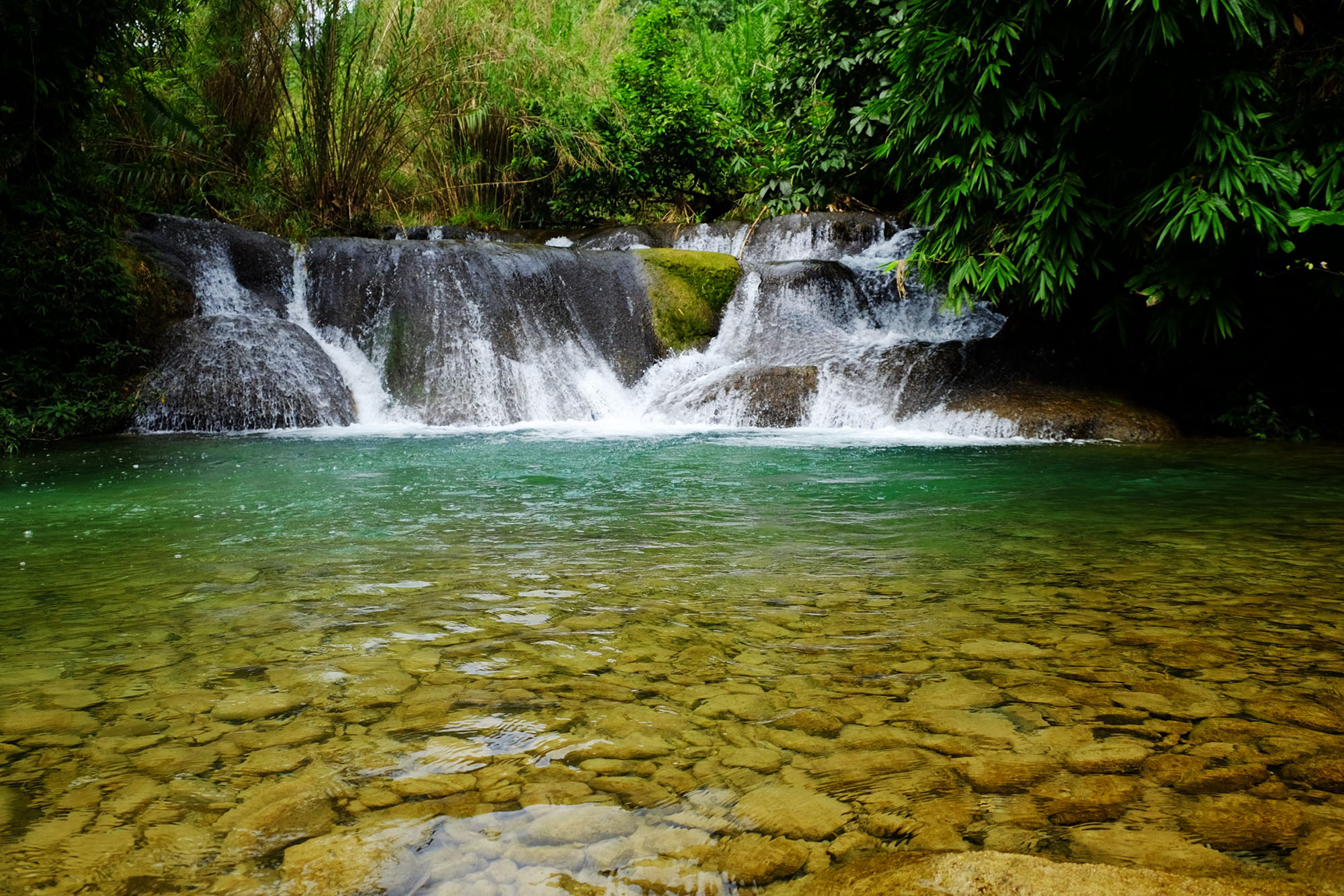 The fresh stream flows down from the waterfall at Nặm Chắn.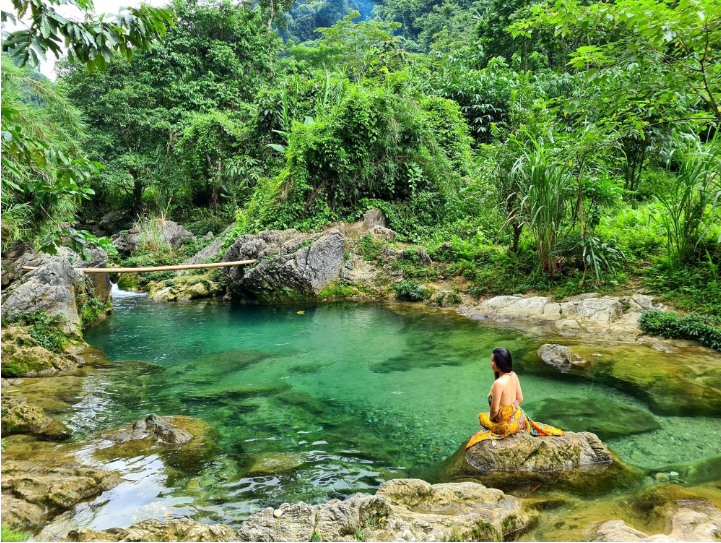 Stream flowing from the Nặm Chắn waterfall.
We returned home in the evening to eat a meal prepared by Xới's parents using the same ingredients as before, including chicken, rabbit, fish, and fresh vegetables. The warm meal in the yellow light of the courtyard at the foot of the stilt house was occasionally accompanied by laughter. Then, as the village went to sleep, we, strangers still sitting together, told headless stories, heard insects chirping, and gazed up at the starry sky before falling asleep.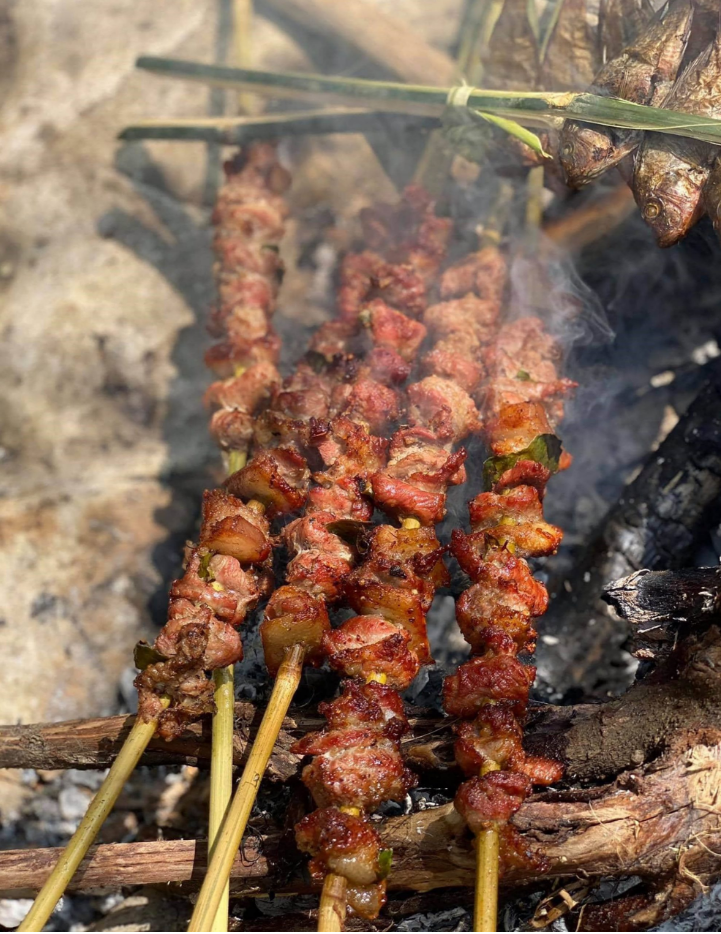 Tày people's rustic dish of grilled skewered pork.
The next day, I borrowed a bicycle by myself and cycled around the villages of Tông Pắng, Tông Pình Cại, and Thâm Pất. Even though I had harvested all of the golden roots smelling of ripe rice, I was engrossed in watching the field and inhaling the clear air. Valley Lam Thuong was surrounded by mountains and forests, and he noticed clouds swooping down on the roofs early in the morning. Because the villagers are farmers, they frequently get up early, cook breakfast, release cattle, and then go to the field to work as a refuge. As a result, if you look up at the high mountains and see the sun shining, blue smoke has surrounded the palm roofs when you look down at the village.
After breakfast, Xới led us to climb Khau Chảu mountain more than 2km from home. Because the road is not too long but steep, everyone must eat well to climb without faltering. The way up the mountain does not have streams or waterfalls, but in return, it passes many orchards and green trees, and wherever they go, whether patrons or strangers, they are happily invited by the villagers. Along the way, you also encounter herds of cows, buffaloes grazing, and uncles crossing the forest road to harvest corn and bamboo shoots at the end of the season.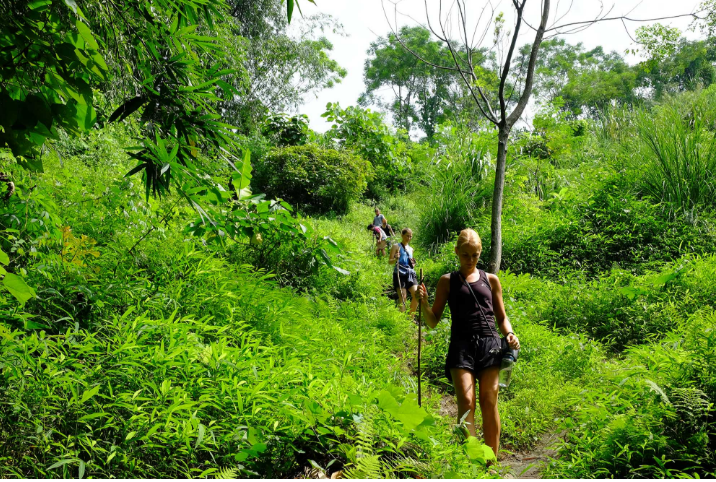 Tourists climb Mount Khau Chảu.
Everyone is surprised at the top of Khau Chau Mountain because the peak is not pointed but flat like plain, green grass and dotted with a few large palm trees. Khau Chau is only a few hundred meters high, but the route up many steep sections, whoever comes to Lam Thuong, just set foot in the Tay stilt house, you will immediately feel the airiness as well as the villagers' hospitality.
The Tay people here primarily farm, growing rice, corn, and crops, as well as raising cattle and poultry. Every family has a fish pond in addition to the vast rice fields that cover the valley. Water from mountain streams flows in, keeping the pond stocked with food for the fish and ducks. Many households have more chickens, pigs, rabbits, and dragon fruit plants... Lam Thuong people make many fresh specialties to treat guests, such as purple sticky rice, fish, gourd duck, native chicken, bamboo shoots, and spring moss, thanks to the fertile soil and abundant spring water.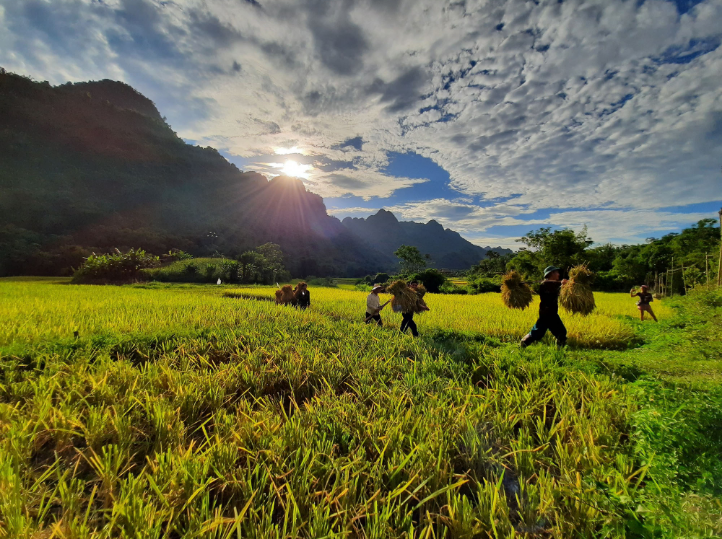 During the harvest season, rice fields become fragrant.
A meal in the village costs only 80,000-150,000 VND but provides both eyes and a full stomach. If you do not order rice at people's homes, trekking journeys, picnics, or streams, there is a shack where you can make a field meal when purchasing meat and fish in the village. Local chickens and ducks roam the field, ensuring that the meat is firm and chewy; fish raised in ponds for natural spring water should be consumed, particularly fish that is not fishy but also very valuable.
Currently, an Xới house serves as a community tourism service in Lam Thuong. Although the village is small, visitors from far away come to the house every year to play Tet and experience the idyllic life and very unique culture of the Tay people. He builds a pair of small stilt houses next to the stream, right next to the big house, for guests to enjoy some privacy when accompanying the couple or family, in addition to the large house that three or four generations of families live in.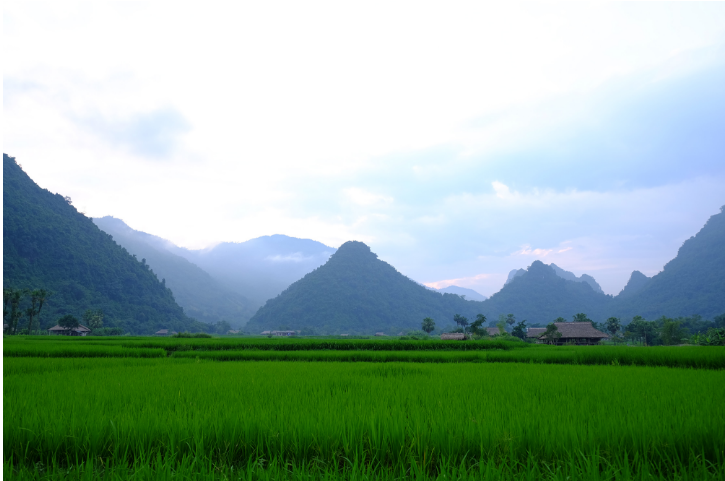 Upper green rice season in Lâm Thượng Valley.
And if you come here during the Tet holiday, you won't have to travel far because the Tay people in the village already have specialties in the house. They slaughtered pigs to eat until January, prepared kitchen meat, pork sauce, cooked fish, and gourd ducks, wrapped flowers to offer rice to ancestors and traveled long distances to treat guests. Tet visitors can try on traditional indigo dresses, shop for holiday items, go to the market, and actively participate in folk games such as tug of war, pushing sticks, blindfolds, and duck catching.
Lam Thuong does not have particularly unique or well-known scenery, but hidden within him are the breath of peace and soul, quiet but warm nights, and mornings full of clear clouds that cause everyone to feel lightheaded in a moment of simple but profound happiness.
Source: Hương Chi