Kneeling wildflowers cover the banks from the top to the foot of the R'Chai volcano, giving this season the appearance of ripe northwest rice terraces.
R'Chai is located on provincial road 724 in R'Chai 3 village, Phu Hoi commune, Duc Trong district, Lam Dong province, about 40 kilometers from Da Lat's center in the direction of the Lien Khuong highway to Saigon.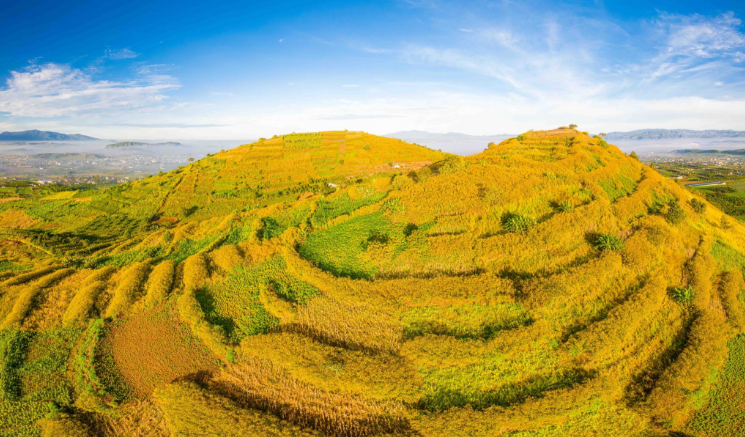 Wildflowers kneeling in R'Chai, like many other places in Da Lat, began to bloom brightly around the end of October, and the beginning of November, coloring the entire mountain.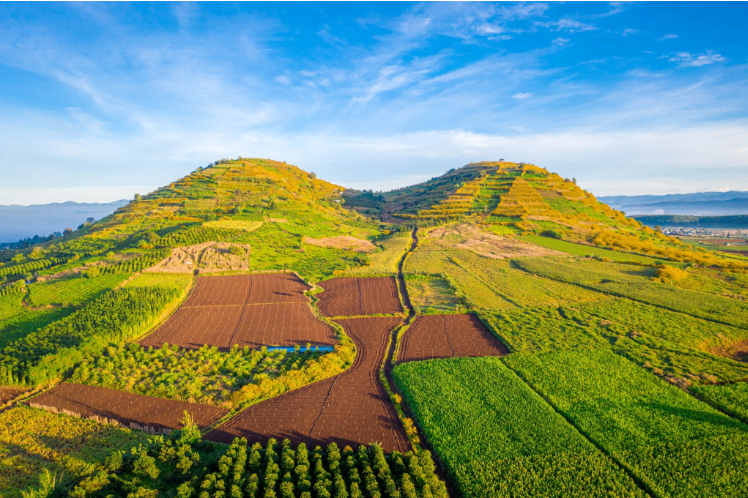 The K'Ho Cil primarily inhabits R'Chai. R'Chai is described as a double mountain by his compatriot K'Ho Cil.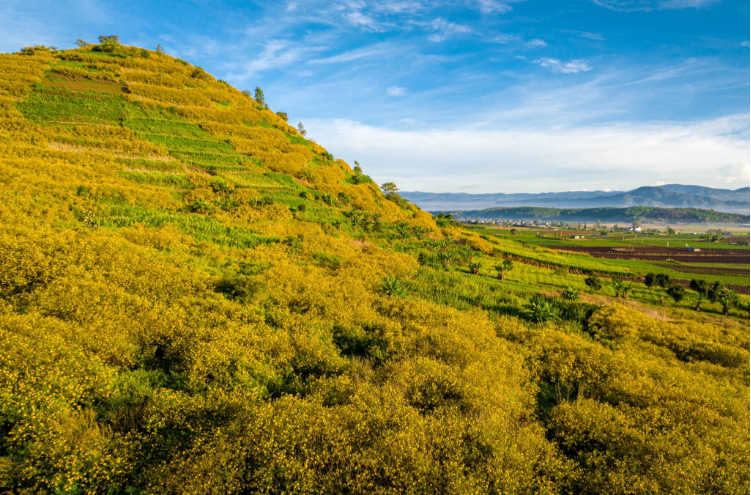 For thousands of years, R'Chai has been a dormant volcano, with lava remnants leaving fertile basalt-red soil. This is the largest crop-growing area in Lam Dong province's Duc Trong district.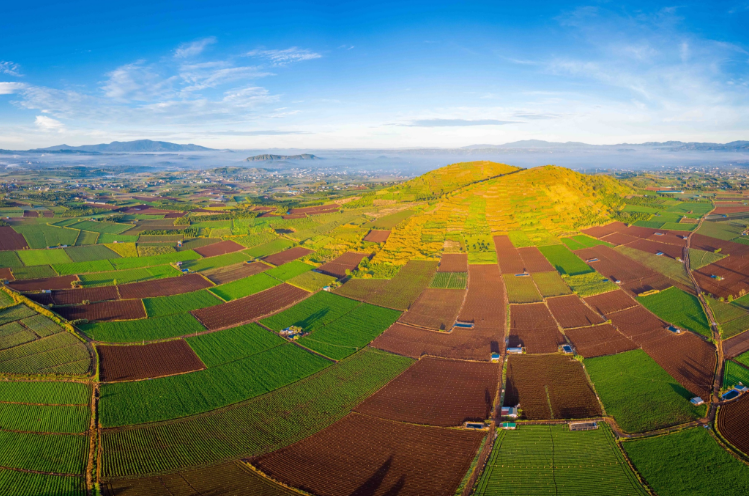 When viewed from above, the mountain is a brilliant yellow color, with green fields mixed with beautiful basalt-red soil at its base. This season, the blooming of wildflowers has drawn many visitors from near and far to check in.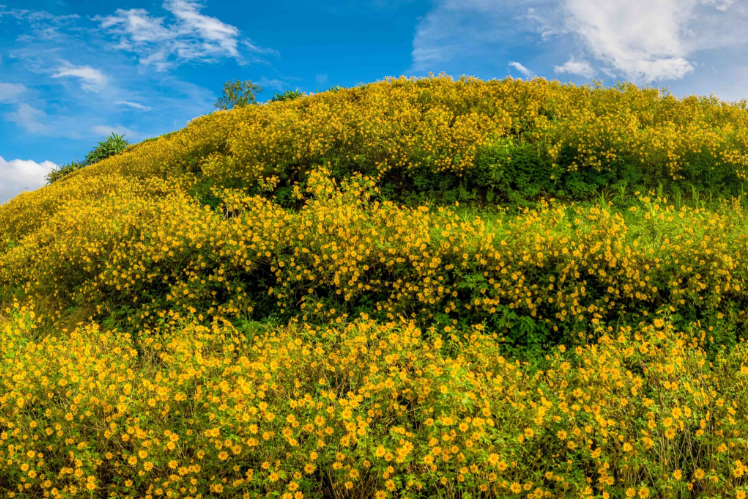 It will take you about 45 minutes to walk from the bottom of the mountain to the top if you are in good health. Alternatively, you can ride a motorcycle for about 15 minutes up the middle of the volcano to the locals' vegetable fields.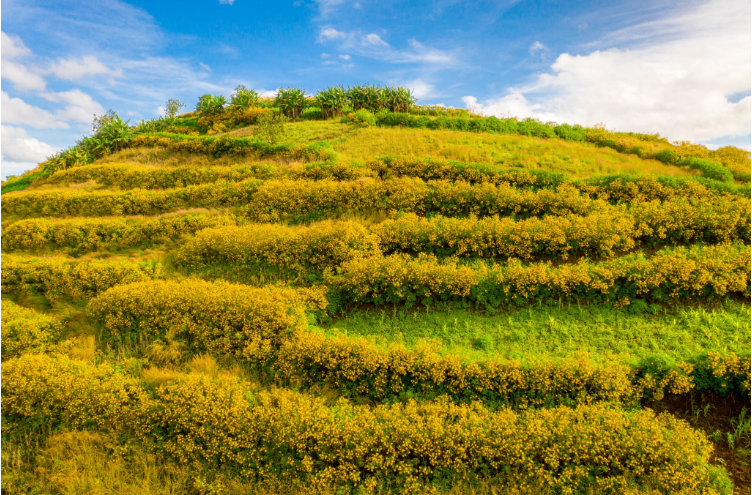 The shape of the wildflowers in R'Chai, despite being wild, reminds visitors of the terraces in the Northwest Mountains.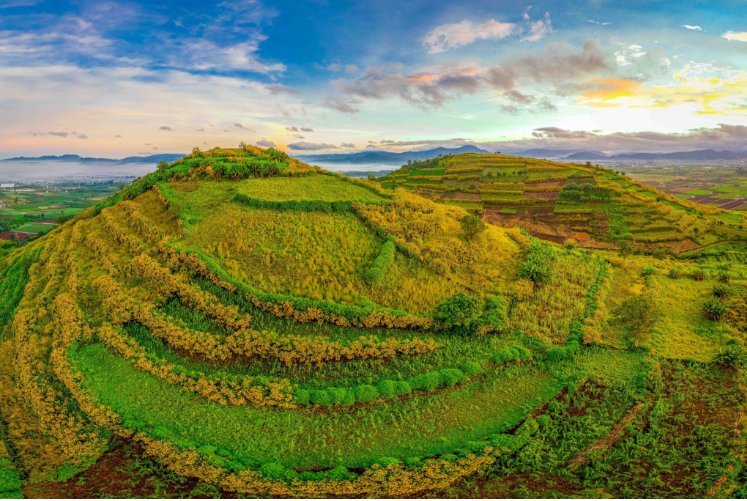 On the banks of potato corn plots, wildflowers bloom. When visitors reach the top of the mountain, they are surrounded by the pink color of weasel-tailed grass and the green color of the crops cultivated and cared for by the people, in addition to the yellow color of wildflowers.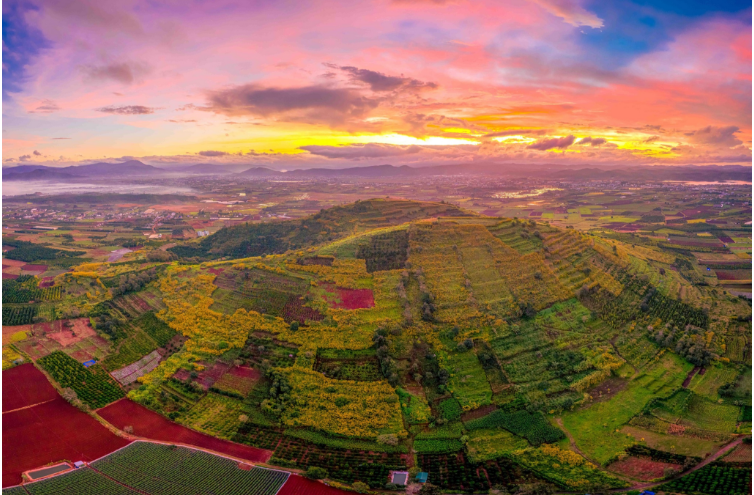 R'Chai was painted in the dazzling landscape as the sunset. The yellow of wildflowers matches the yellow of the sunset, the basalt red, and the green of the trees... making the R'Chai space unmistakably beautiful.
To avoid getting lost because this is a new check-in point when you arrive at provincial road 724 in R'Chai 3 village, Phu Hoi commune, Duc Trong district, Lam Dong province, go straight to the residential area of Hamlet 3, alley 3/2 will bring you to the foot of R'Chai mountain. You can ride a motorcycle to the center of the volcano and enjoy the stunning scenery...
Source: Bùi Văn Hải (Báo Thanh Niên)