Tran Van Son (1997) experienced Ha Giang by not limiting himself to attractive stops, but by walking and conquering pristine white cliffs.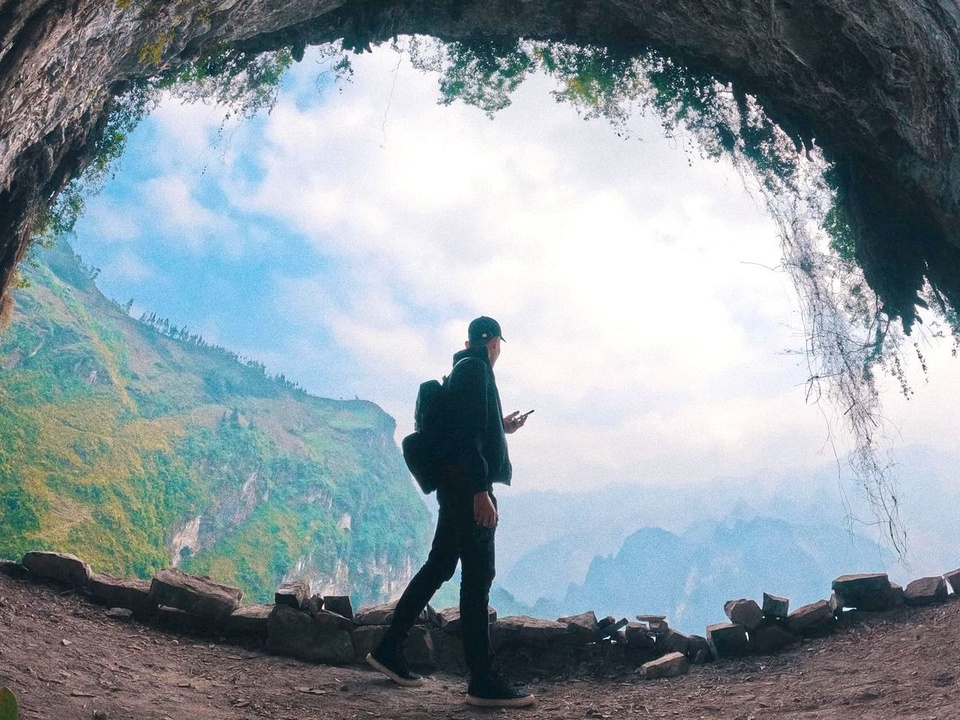 Conquering high cliffs allows you to see everything that is going on around you.
In the Northeast region, Ha Giang is a popular tourist destination for both domestic and international visitors. Nature has blessed it with pristine landscapes, including a network of rivers, mountains, majestic rocky plateaus, and winding passes.
Among the many ways to enjoy the country's first place, if you like to explore, adventure, and check in strange corners, you can find your own new inspiration in an area where few people come in the land of "flowers blooming on the rock."
Coming to Ha Giang alone
Van Son (currently living and working in Hanoi) recently completed a journey through Vietnam.
Son has visited 30 provinces and cities in Vietnam after a solo journey of nearly 5,700 kilometers on a motorcycle.
"My previous job was in the film. Many beautiful regions in Vietnam have left me with a lasting impression. I've since decided to become a travel vlogger "Van Son revealed.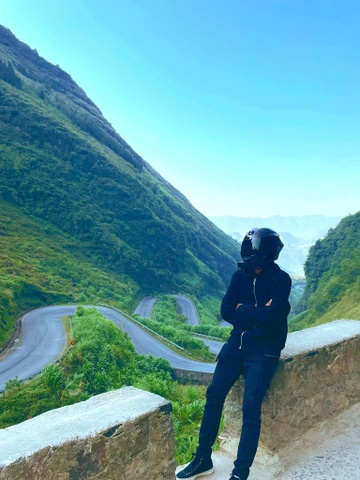 Van Son traveled by himself.
The 25-year-old aspires to share more images of human life, and the cultural identities of the places he has visited, and to film footage of each place he has visited.
Continuing his passion, Son decided to travel alone to Ha Giang - the northern highlands - in November.
Conquer the white cliffs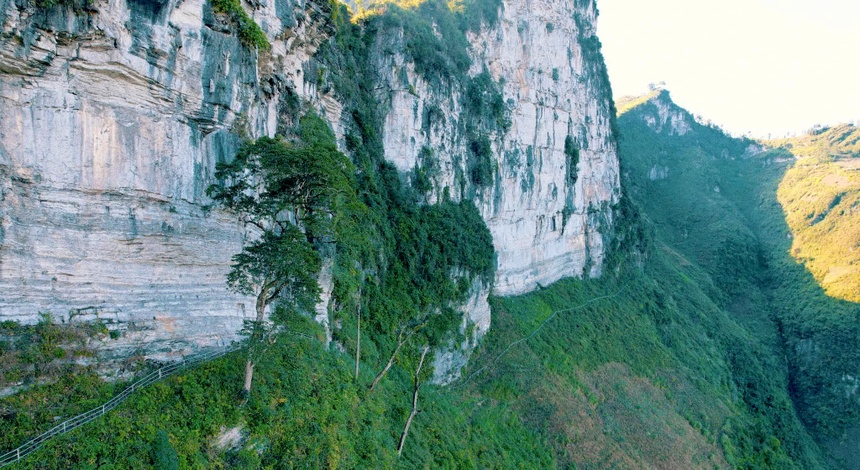 White cliffs - a destination for daring souls.
"There are many beautiful places in Ha Giang that attract many people, but I wanted to find a more private, quiet space and walk to make footprints on the beautiful land, so I decided to conquer the white cliff," 9X explained.
The white cliff is the back of a mountain at the top of the Ma Pi Leng Pass, one of Vietnam's most dangerous passes.
According to locals, when there is no Happiness road, the road along the white cliff is the main passage between Dong Van and Meo Vac. White cliff is also where the Cat King and his entourage pass and often stop to rest before. The trail with stone steps leading up here has been around for a long time.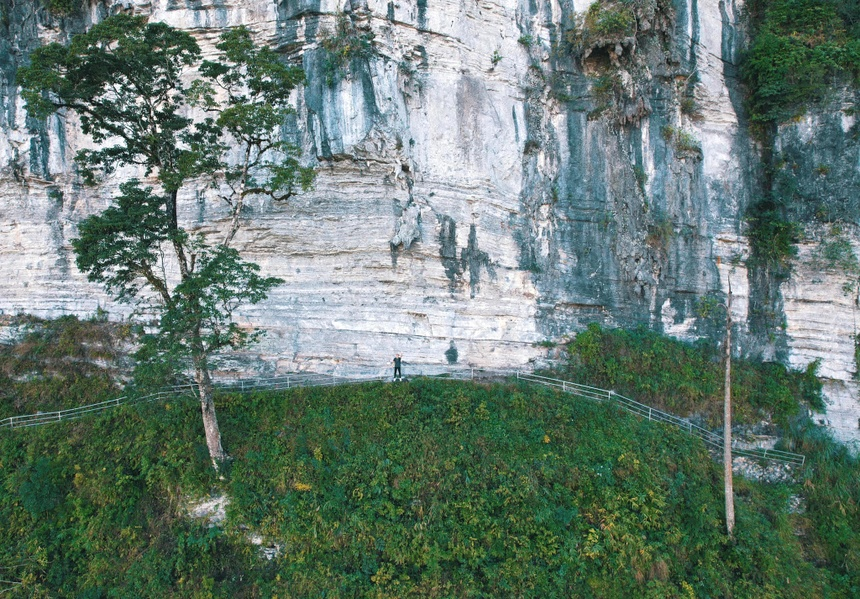 Large white limestone patches stand out among the clouds and mountain winds.
Van Son rode his motorcycle from the Happy Road Museum through the death rock area, down a valley, and up to the observatory. Son arrived at the walking path to begin exploring the white cliff after riding his motorcycle for about 3 kilometers on a difficult road with a cliff on one side and a chasm on the other.
The path along the mountain slope is only wide enough for one person to walk; there are stone steps and iron fences to ensure the safety of tourists.
The white cliff area has a snout cliff thanks to geology's miraculous tectonics, providing enough space for a few people to camp overnight and watch the stars or catch the sunrise when they wake up.
"Going a little further, I discovered lush green beds blooming yellow throughout the area, planted at the base of the white cliff. In the near future, there are clusters of 3-4 trees, the name of which I do not know, but most of them have died dry, leaving only one tree, which I will call a lonely tree for the time being "Son stated. Van Son rated this location as the best in the area and the best place to take photos.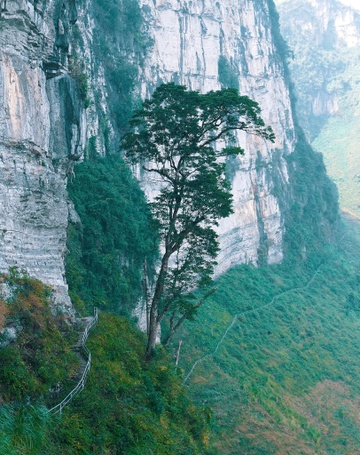 A lone tree near a white cliff.
Backpackers can see the beauty intertwined between clouds and mountains, of the Nho Que river, Tu Loi gorge, watching the group of backpackers go in succession on the Happiness Road... from this height.
"To return, you can go all the way to the mountainside, where there will be a small path leading down Happiness Road, or you can go back to where you started," Van Son explained.
Before exploring the rugged cliffs
According to Van Son, many things must be prepared before we embark on our journey. However, the most important factor is one's health.
With the constantly changing terrain of Ha Giang's steep passes or the walking distance as far as the white cliffs, you must refer to the area's terrain, including the path and the way back. Adventurers, in particular, must monitor the weather situation while also considering safety, advantages, and difficulties prior to departure.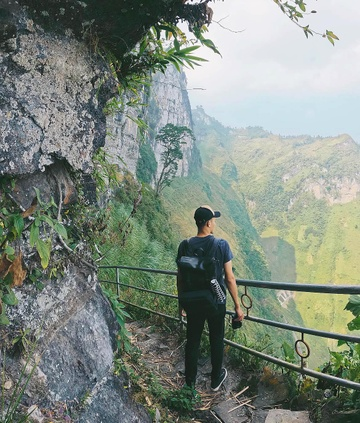 The luggage should be as small as possible.
Because the distance to the cliff is quite long, carry-on utensils must be as compact as possible, aside from replenishing drinking water and snacks. The outfit is soft and stretchy, allowing for easy movement. Lightweight waterproof wind jackets are ideal for foggy conditions. Clinging sneakers are ideal for trekking in slick, difficult-to-walk terrain.
Furthermore, if you intend to spend the night, you must bring enough warm clothing as well as tents, camps, and personal belongings.
It should be noted that you should not litter, engrave names, write letters, or draw on cliffs.
"We come here to enjoy the beauty of nature, take only beautiful photos and videos, and leave only footprints," he explained.
Break boundaries, go where you want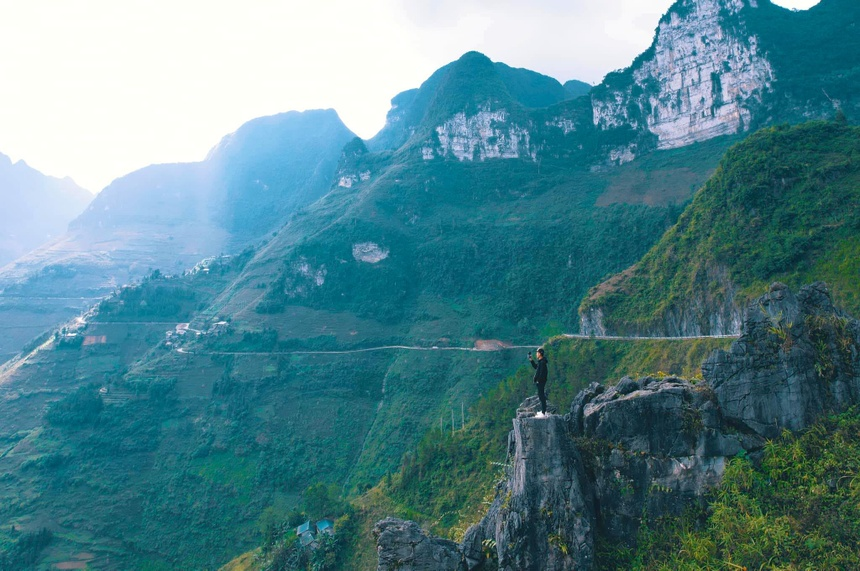 Each journey has its own meaning and brings with it a wide range of emotions.
"Trips refresh my soul and inspire my work," the 25-year-old explained.
For Son, the most exciting aspect of each trip is not only enjoying nature and learning more about the country's culture and history, but also the opportunity to chat with and meet many new friends on the road.
Although initially unfamiliar, it brings people closer together due to shared interests. Each brings a story about how the young man seeks newness and positive energy.
Each of us carries a sense of wonder and discovery with us. Take the time to plan a trip if at all possible. Every journey, no matter how long or short, will make you appreciate life and your country more.
Source: Khanh Van