All are located in Na Hang - Lam Binh Nature Reserve, Tuyen Quang Province, and have impressive and majestic beauty. They have been nominated for "Top 7 magical waterfalls" within the framework of the program "Top 7 impressive Vietnam 2022."
Nặm Me Waterfall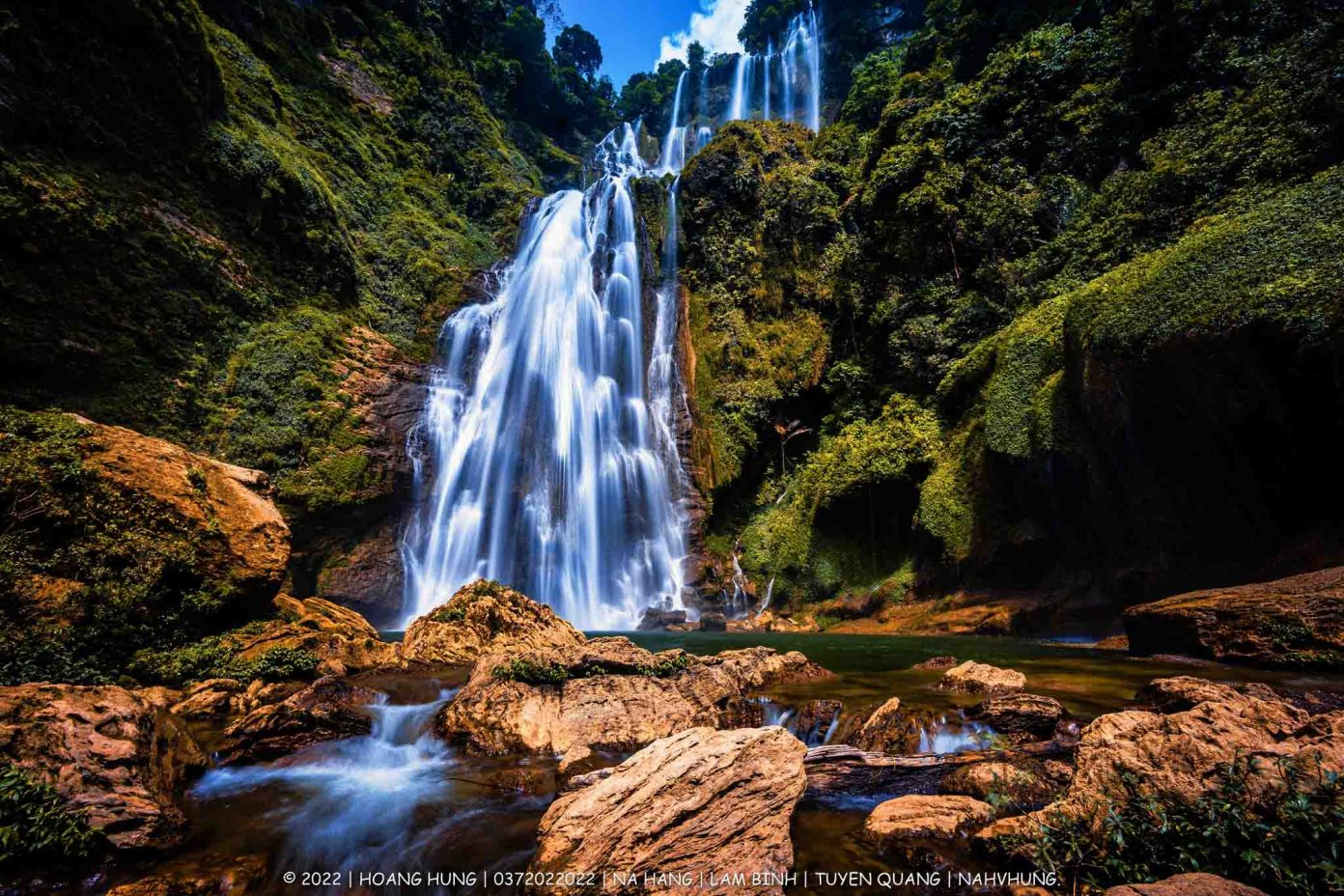 The breathtaking beauty of Nặm Me waterfall.
The waterfall has a length of about 4km and 15 majestic waterfall floors, with small waterfalls interspersed between the large waterfall layers, creating a "soft white silk strip" that stands out among the deep green mountains and forests. The waterfall has a broad and open surface, with water flowing four seasons through primeval forests and limestone mountains, as well as typical old forest trees that are uncommon in the tropics.
Climbing Nặm Me waterfall is determined to travel far. The rapids are challenging, the rocks are continuous, and there are three to four extremely difficult climbing points, as well as vertical cliffs 10-15m high and smooth moss.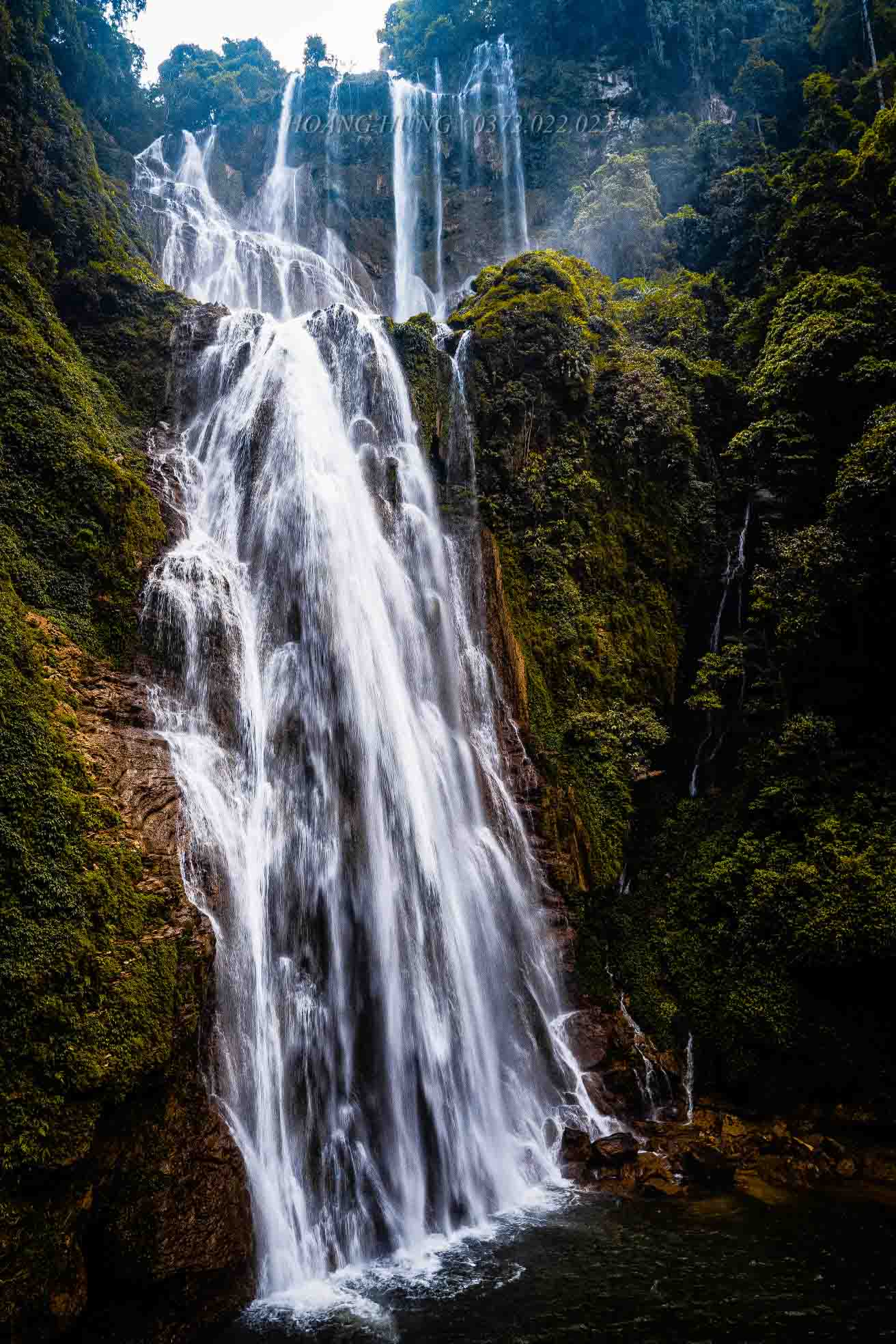 The Lam Binh District People's Committee (Tuyen Quang province) has announced the suspension of sightseeing and experience activities at Nm Me waterfall from 8-2022 in order to restore the ecology and environmental landscape.
Residents and visitors who want to visit Nm Me waterfall must register and obtain permission from the district authorities in some cases. Persons boarding the falls must follow all safety precautions.
Khuoi Nhi (Khuổi Nhi) Waterfall
Khuoi Nhi Waterfall is an interesting and must-see attraction for visitors to Lam Binh district, Tuyen Quang province.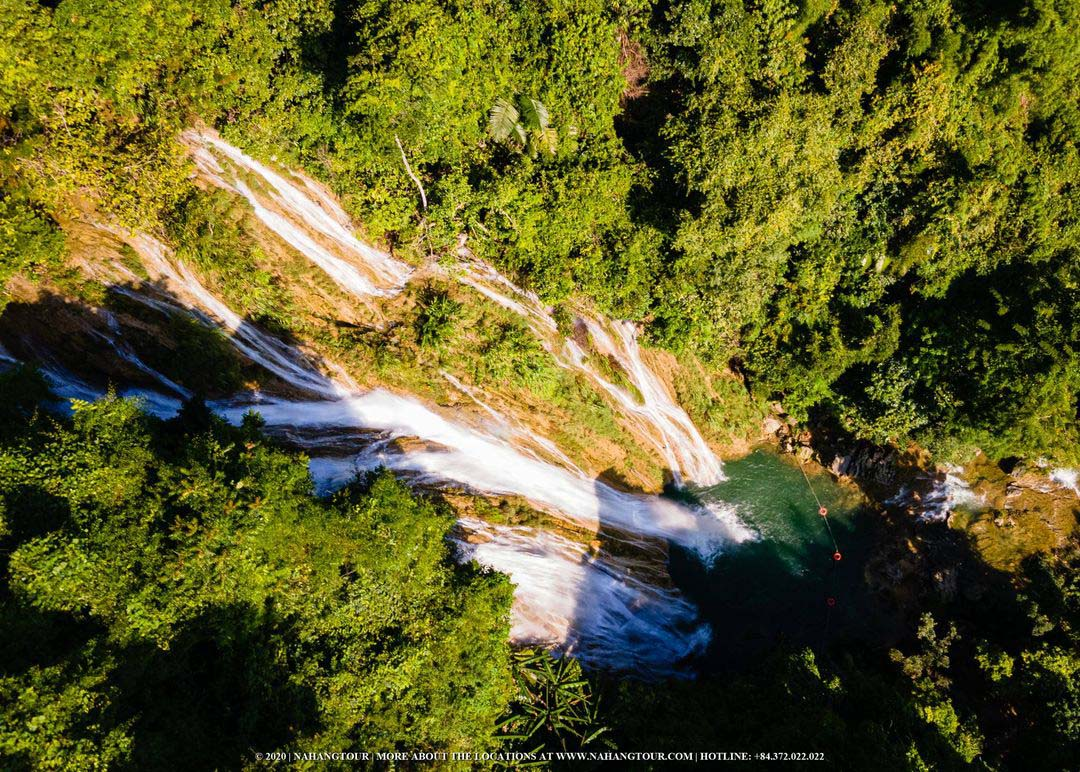 The Khuoi Nhi Waterfall from above.
To conquer the waterfall, visitors begin their practice at the foot of the Tuyen Quang hydroelectric dam. After more than an hour of floating on the lakebed and admiring the beautiful scenery on both sides, visitors arrive at Khuoi Nhi waterfall. The waterfall has many levels and flows 3 kilometers from the top of the mountain to the soft lake bed like a fairy hair stream in the middle of thousands.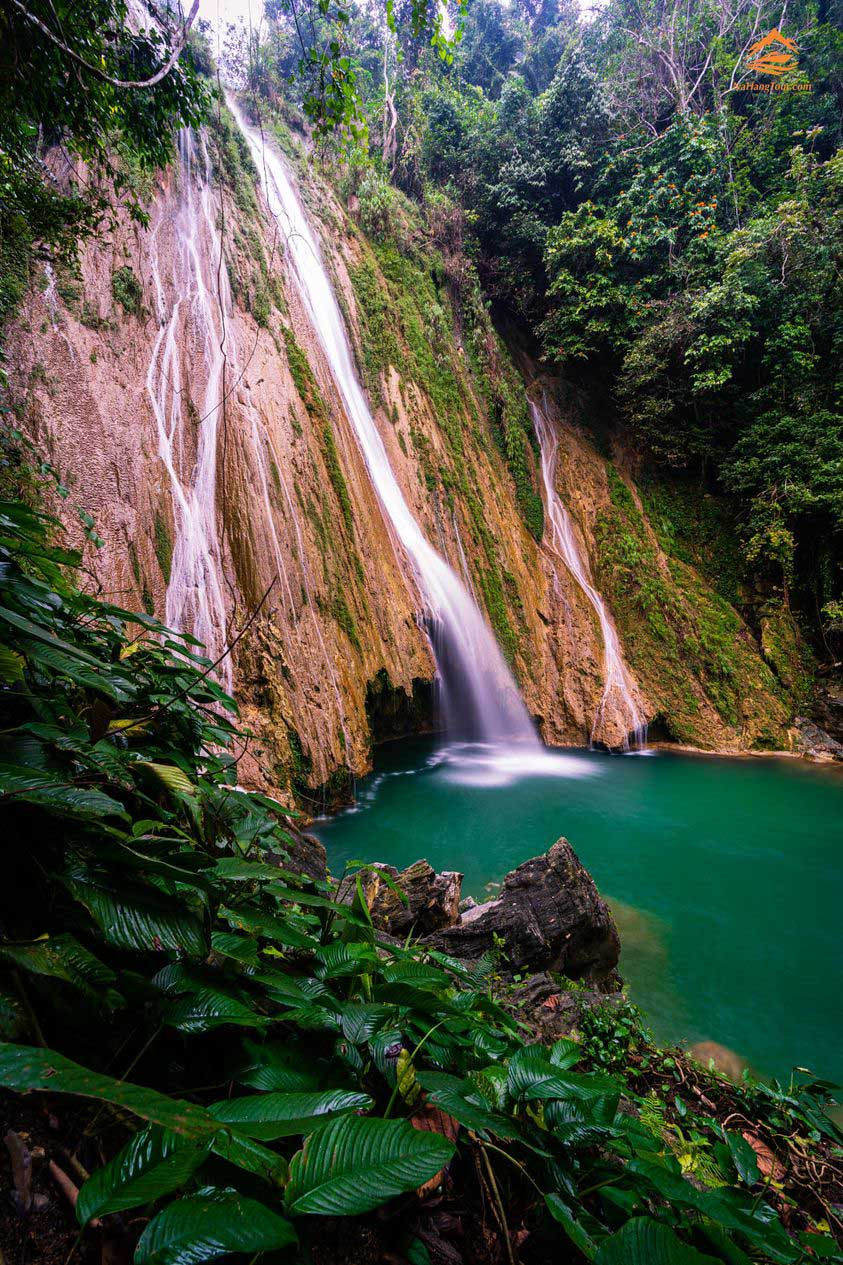 The Khuoi Nhi waterfall is soft in the middle of Tuyen Quang's mountains and forests.
According to the Na Hang Ecotourism Area Management Board, Khuoi Nhi waterfall has become a popular tourist destination on the lakebed. The unit conducted a survey and made the steps to the falls as convenient and safe as possible. The system of trees and primary forests is preserved in its natural state, with no human intervention.
Khuoi Sung (Khuổi Súng) Falls
Aside from Nặm Me and Khuoi Nhi waterfalls, Khuoi Sung waterfall is known as one of the most beautiful waterfalls in Tuyen Quang province, and the journey to conquer it is also quite difficult.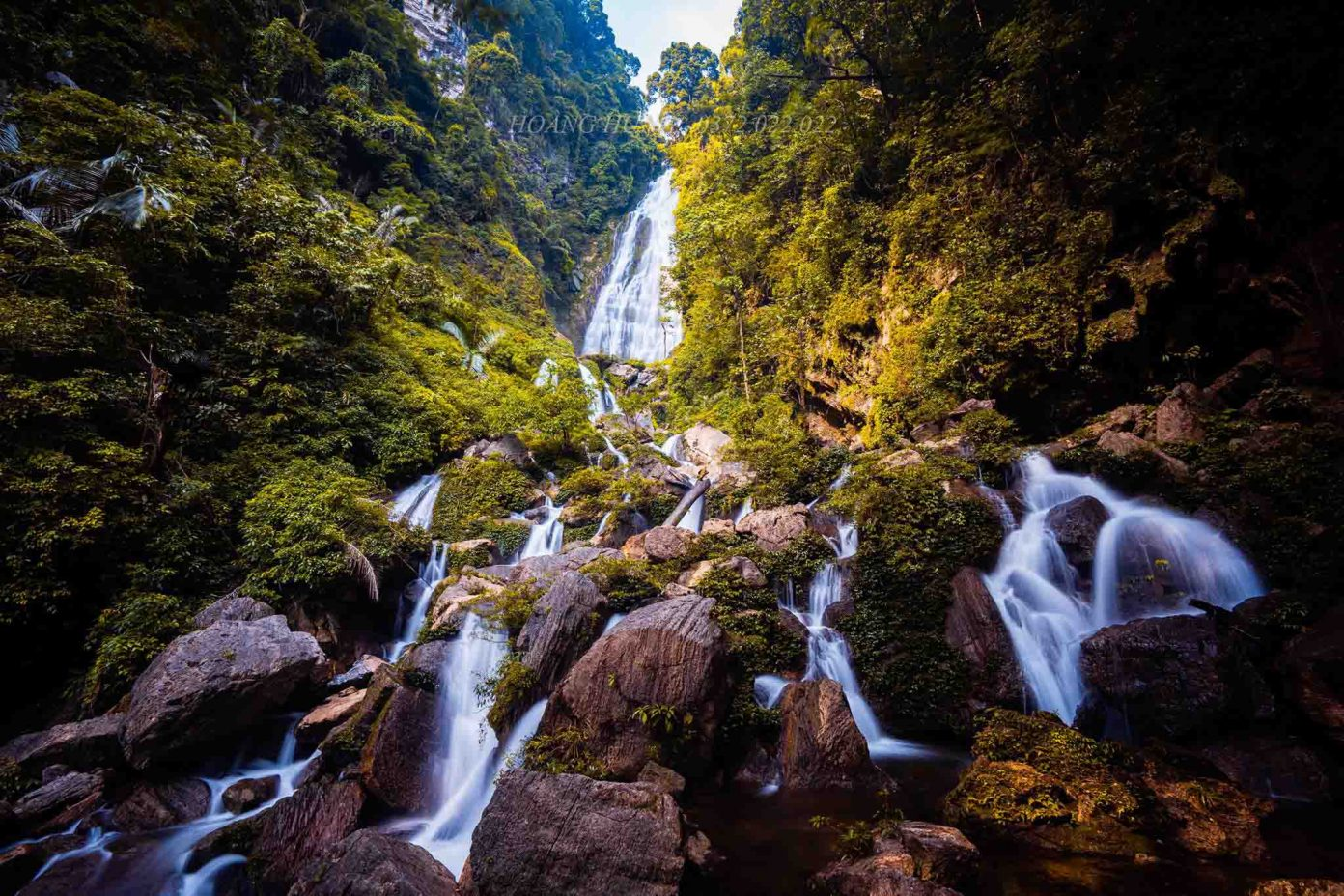 The magical beauty of Khuoi Sung Waterfall is impressive; many small waterfalls intertwine to create a one-of-a-kind natural picture.
Khuoi Gun Waterfall is a large waterfall that flows from the Sinh Long mountain range, which contains many underground geysers and small ravines that flow to Trung Phin (Trung Phìn) mountain. The waterfall is made up of 15 different large and small waterfalls, each floor ranging in width from 30m to 50m, stretching for about 5km, with an average height of more than 700m above sea level and a large water flow all year.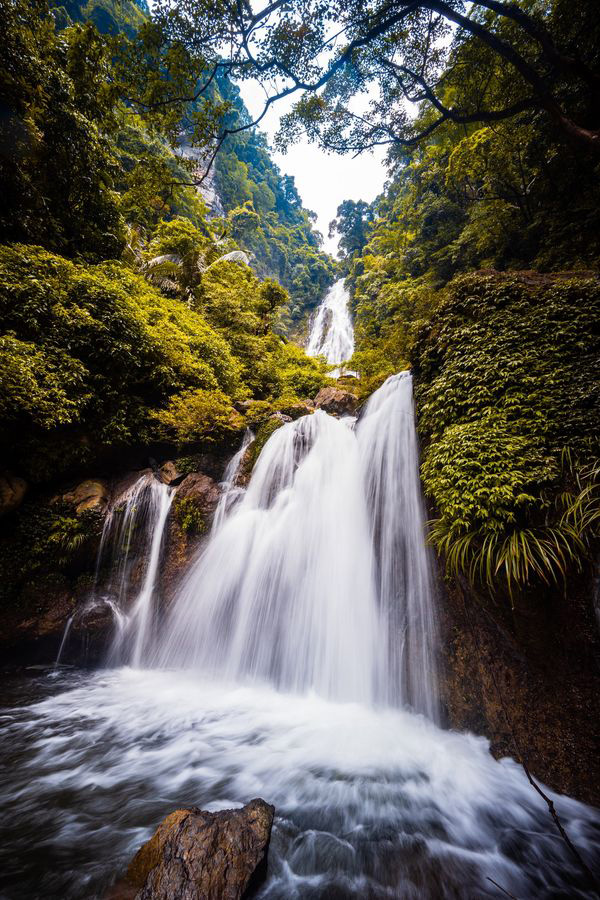 The waterfall floors range in height from 20m to more than 120m and are divided into many large and small waterfall floors, with the flowing water creating clear puddles at the waterfall's base. When the path is steep cliffs, dense trees, and desolate, conquering 15 floors of waterfalls is a real challenge for visitors.
Lam Binh (Lâm Bình) is a highland district in Tuyen Quang province, as well as a charming mountainous land surrounded by magnificent mountains and deep green forests, with many famous waterfalls such as Nặm Me, Khuoi Nhi, and Khuoi Sung...
In order to promote the potential bestowed by nature, Lam Binh district has focused on tourism development in recent years, with a special emphasis on building and improving the quality of traditional products and tours such as community tourism (homestay); experience tourism, exploring the ecological lake Na Hang - Lam Binh; caves, waterfalls, primeval forests; and experience the Long Tong (Lồng Tồng) festival and the Fire Dance festival.
Source: Nguyễn Phong - Photo: Hoàng Hưng