What could be more beautiful than a dim morning in the cold air of Da lat heaven and earth, admiring the beautiful scenery of the sea of clouds floating on Thien Phuc Duc (Thiên Phúc Đức) hill, known as the "cloud hunting mecca" of this romantic city...
There are many named and unnamed hills in Dalat where visitors can see the city from above, watch the mist fly, catch the sunrise, or send the ocean to the end of the sky. Those who have been quietly watching the sea of white clouds like a fairyland in the early morning or evening will remember it for a long time.
Cu (Cú) Hill, Da Phu (Đa Phú) Hill, Robin Hill, Du Sinh Hill, Bald (Trọc) Hill (also known as Bridal (Cô Dâu) Hill - where couples often choose to take wedding photos), Hon Bo (Hòn Bồ) Hill, Ngo Quyen (Ngô Quyền) Hill, Pinhatt Hill, LangBiang Peak, and others are famous hill names. It's impossible not to mention Thien Phuc Duc hill, which backpackers call the beautiful name "cloud hunting mecca" of haughty Da Lat.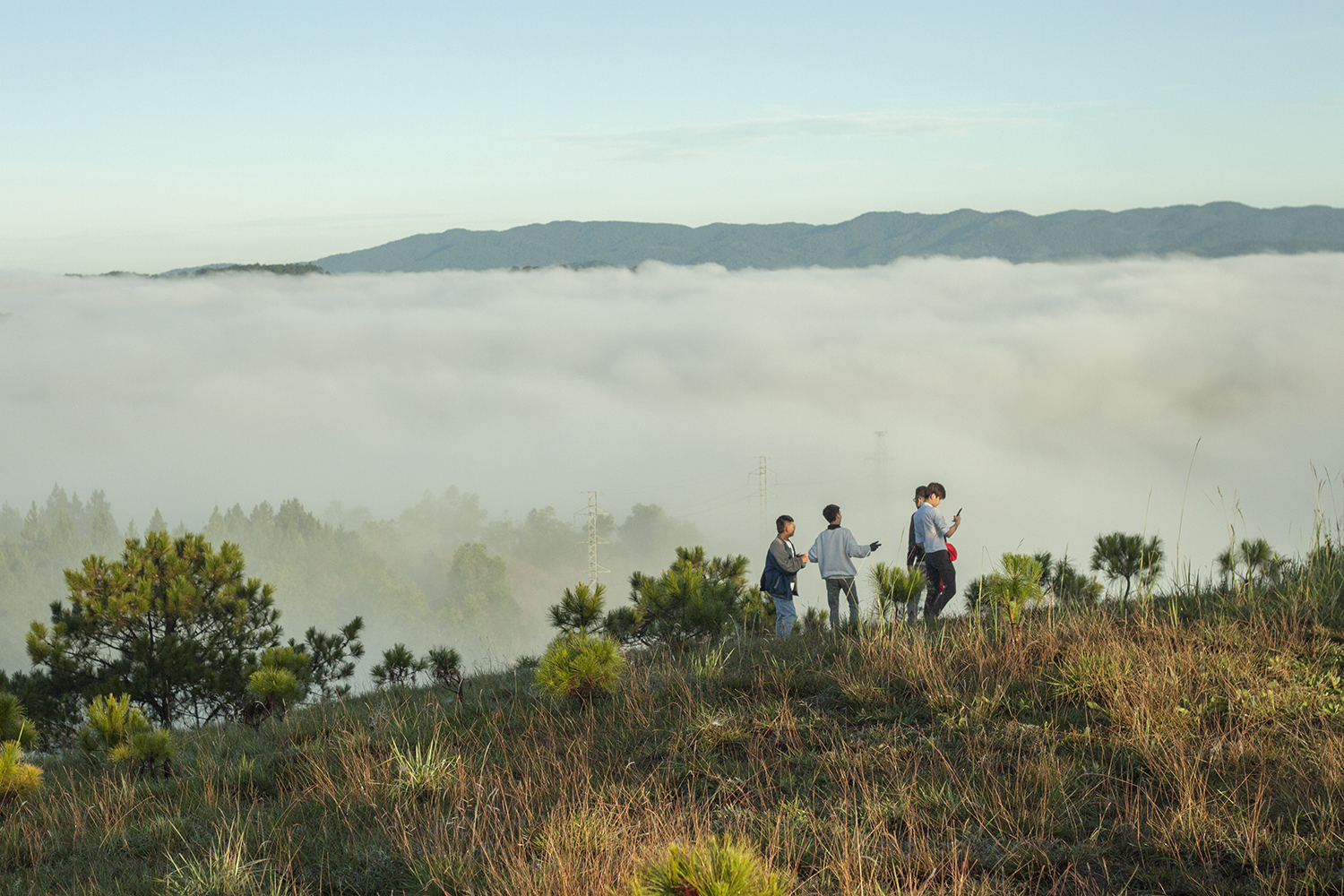 Thien Phuc Duc Hill is known among backpackers as Da Lat's "cloud-hunting mecca."
Where is Thien Phuc Duc Hill?
Thien Phuc Duc Hill is a lovely, not-too-high hill in Ward 7, opposite Langbiang Mountain, about 8 kilometers from the city center of Dalat. Using Google Maps, visitors can easily locate the Thien Phuc Duc hill area.
Thien Phuc Duc Hill is an untapped tourist destination, so it is still quite wild, a popular destination for backpacking enthusiasts and photography enthusiasts looking to "hunt" beautiful landscape photos of Da Lat's dew, clouds, early sunlight, or sunset.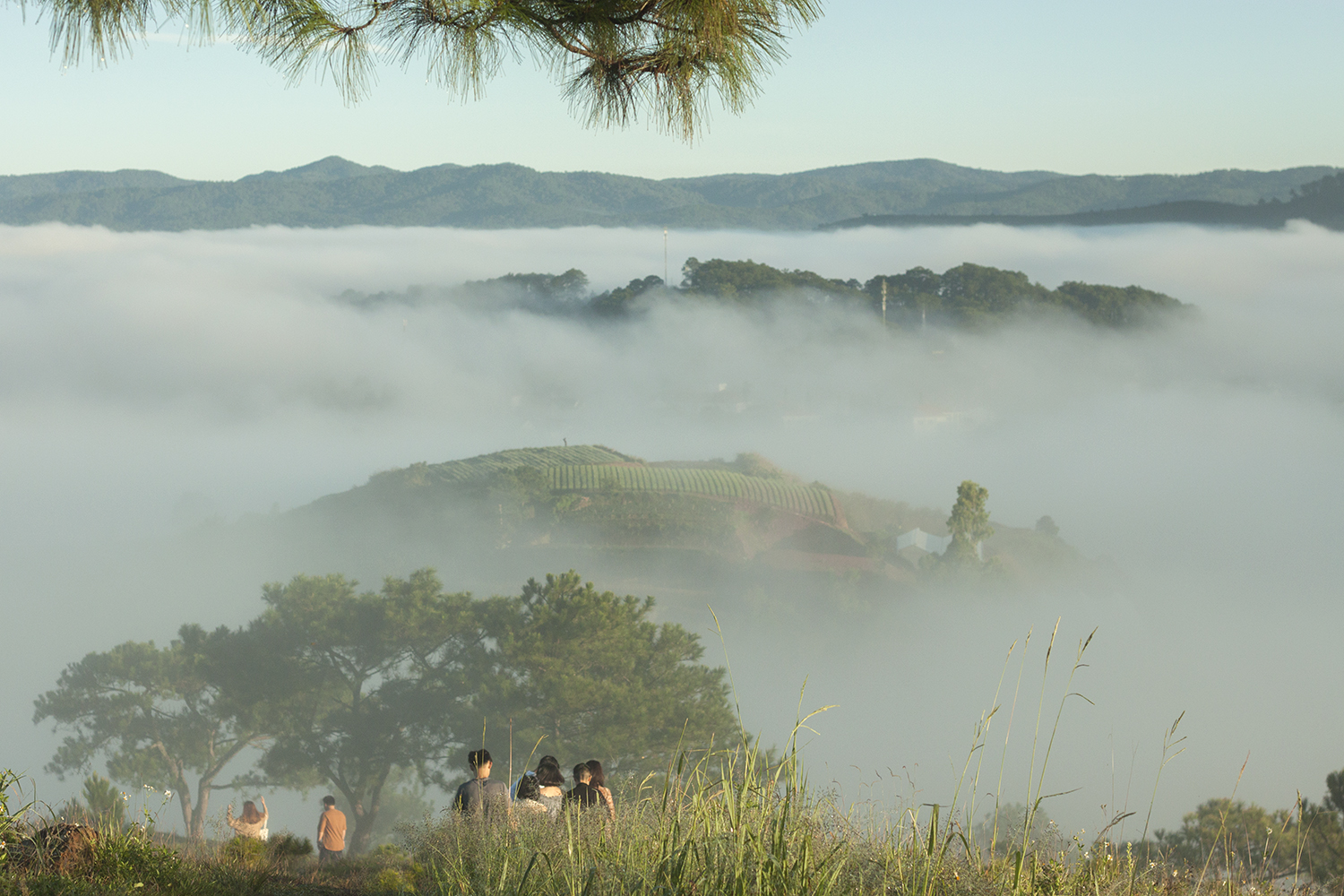 Thien Phuc Duc Hill is a relatively undiscovered destination.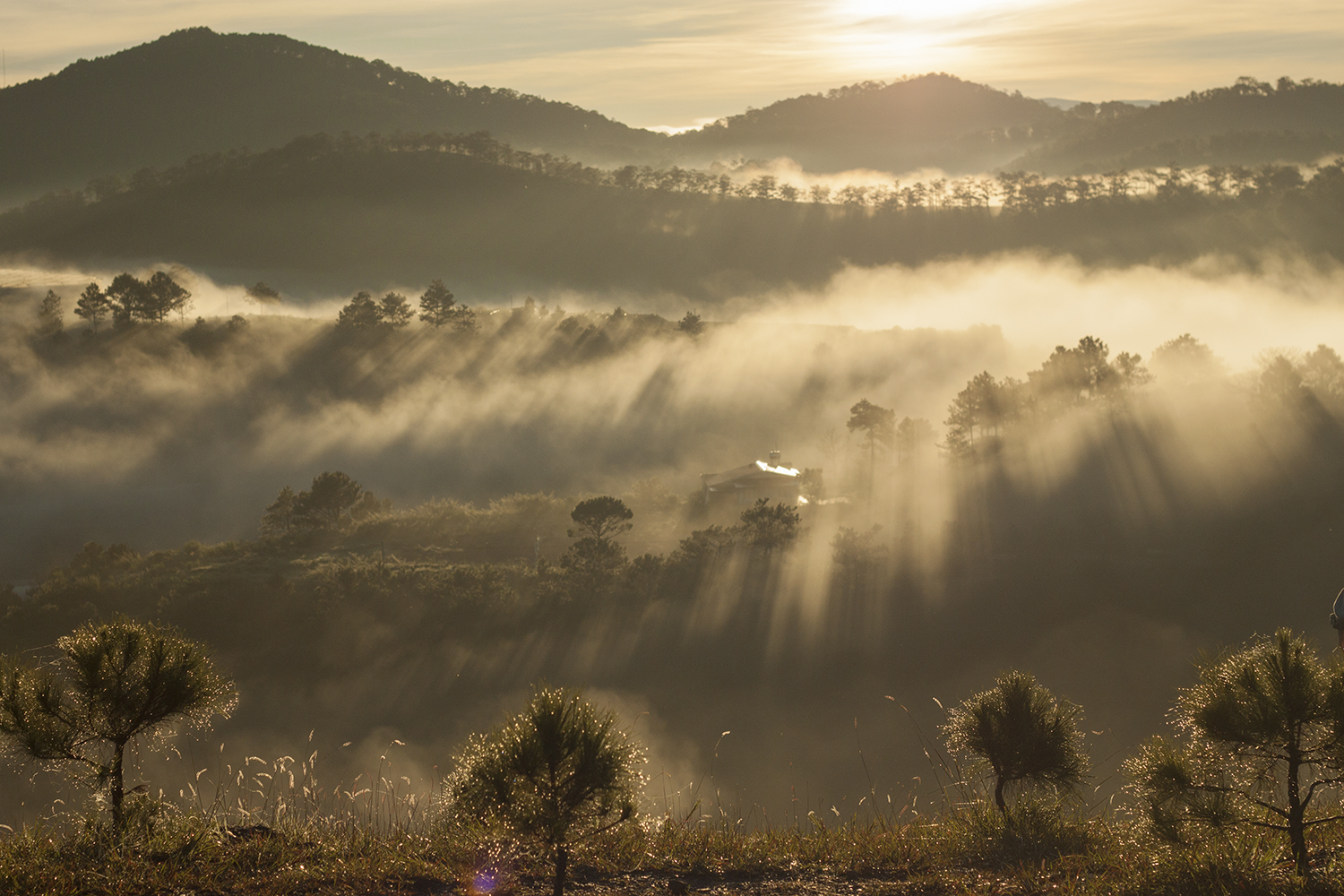 This is a popular destination for photographers looking to "hunt" for beautiful landscape photos of Da Lat's dew, clouds, early sunlight, or sunset.
Visitors arriving by motorcycle will park their vehicles at people's homes at the base of Thien Phuc Duc hill. Then, follow the rugged trail to the top, begin your journey of discovery, and enjoy the scenery from the hill.
The best time to go "cloud hunting" in Dalat
"Cloud hunting," according to previous experience, is a very arbitrary thing. If you have a destiny, you will meet the sea of clouds tomorrow morning or evening. If there is no predestination, you will not see it with your own eyes no matter how many times you go.
In general, visitors to Dalat can "hunt" clouds at any time of year and in any season. However, the most beautiful sea of clouds can be found during the rainy season, which lasts from June to August on the calendar, or in the early winter, between October and November. The sea of clouds is most likely to be seen on rainy nights the night before; the next morning is dark, the space is dense, and the humidity is high. However, as previously stated, successful "cloud hunting" in Da Lat is also dependent on two words: "depending on fate"!
If everything goes as planned, the best time to "hunt for clouds" is early in the morning. You can watch the sunrise from the top of Thien Phuc Duc Hill, and see the scenery change from black to dark purple, then blue, then pink, then orange, then yellow...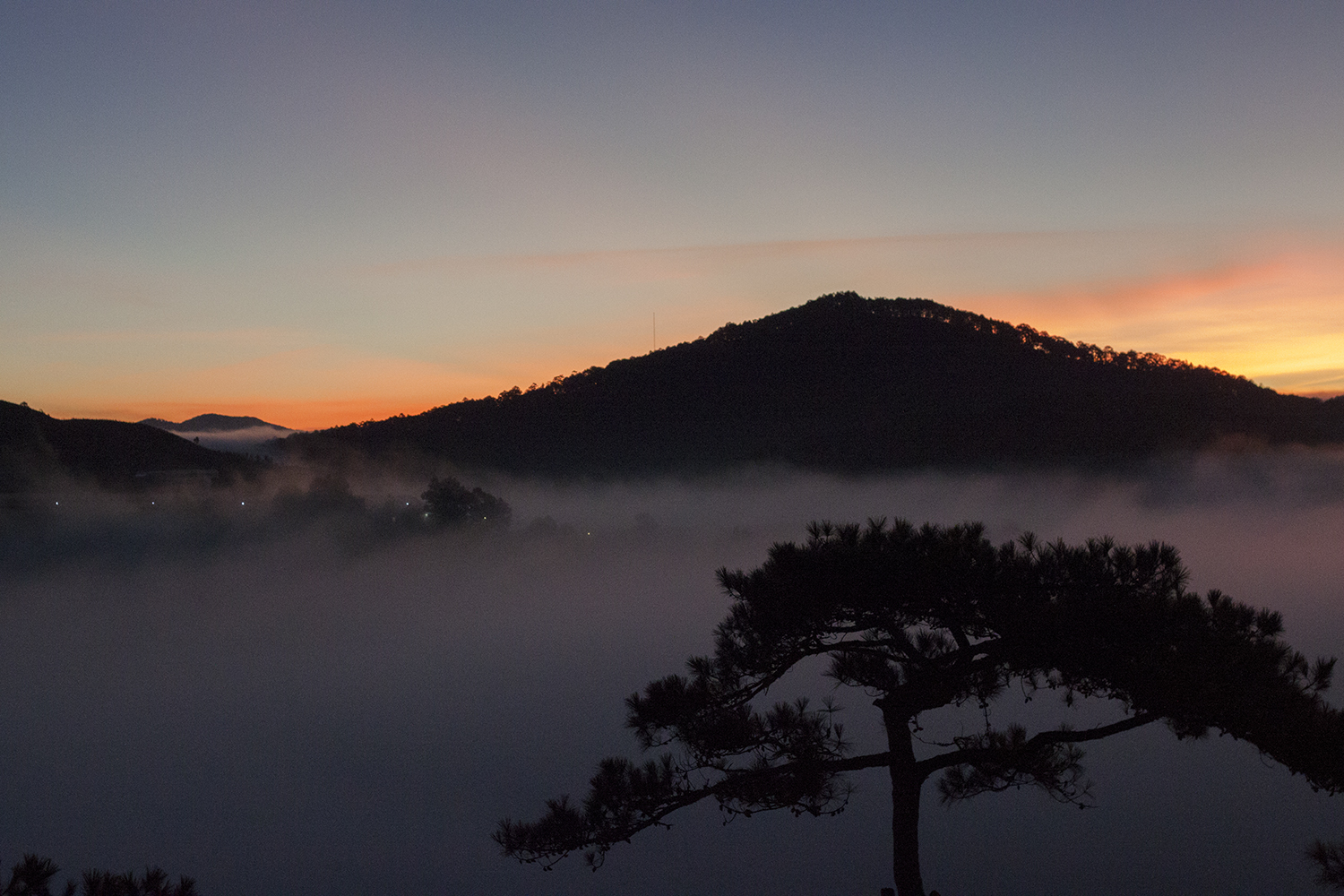 When it was still dark, the Hill of Heavenly Blessings was dim.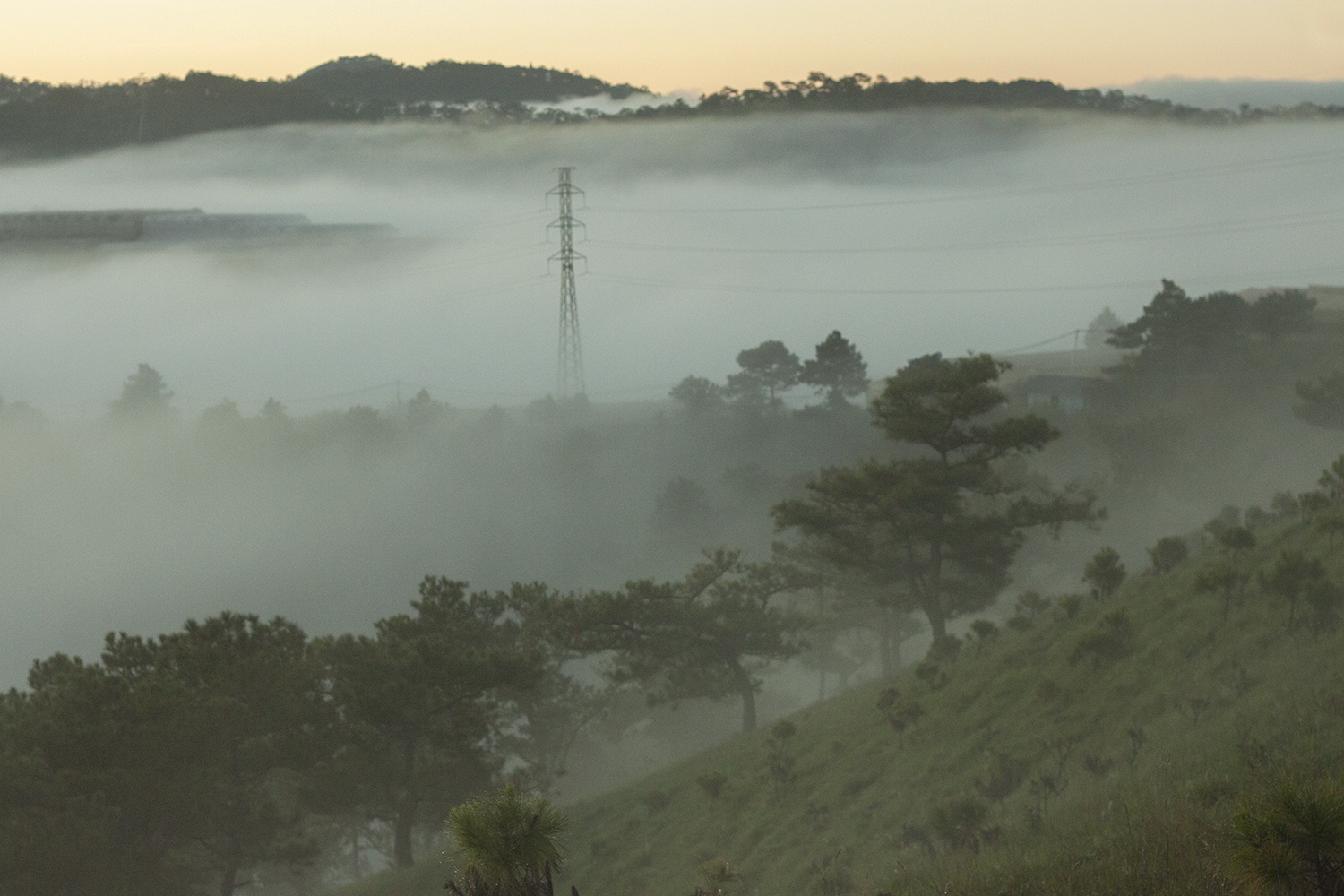 A sea of flickering clouds encircles mountains and hills.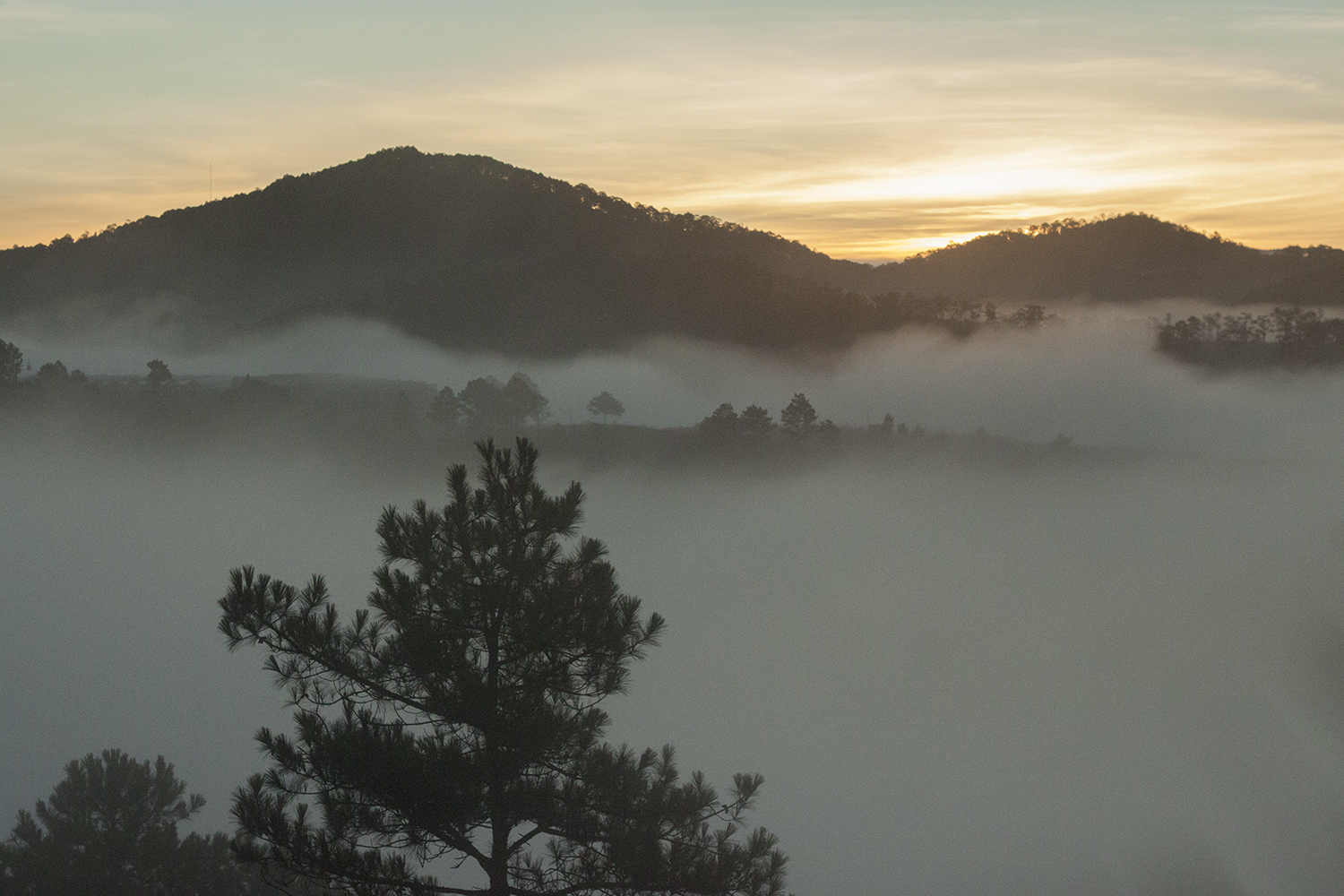 The sun gradually fades.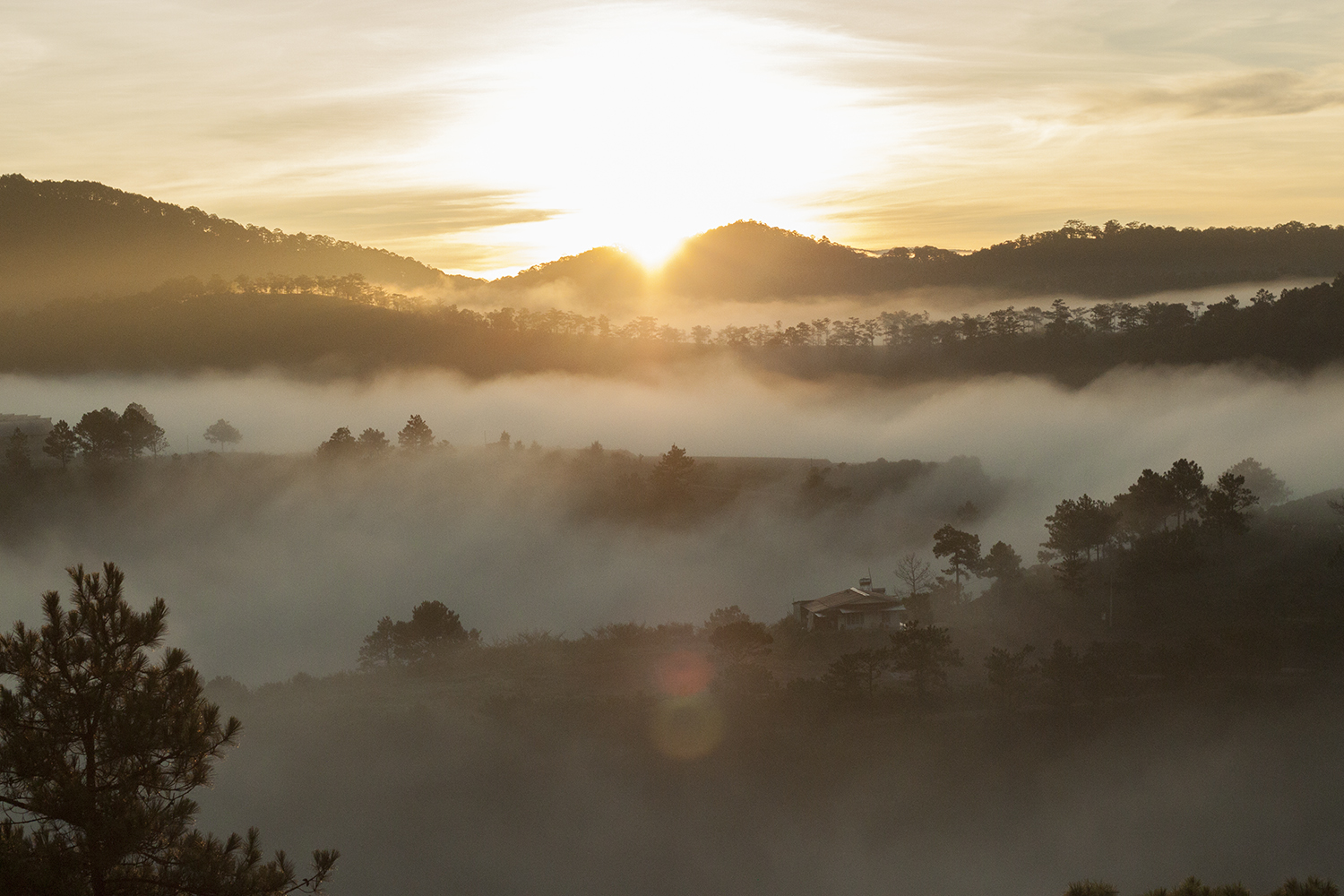 The most anticipated moment of the day...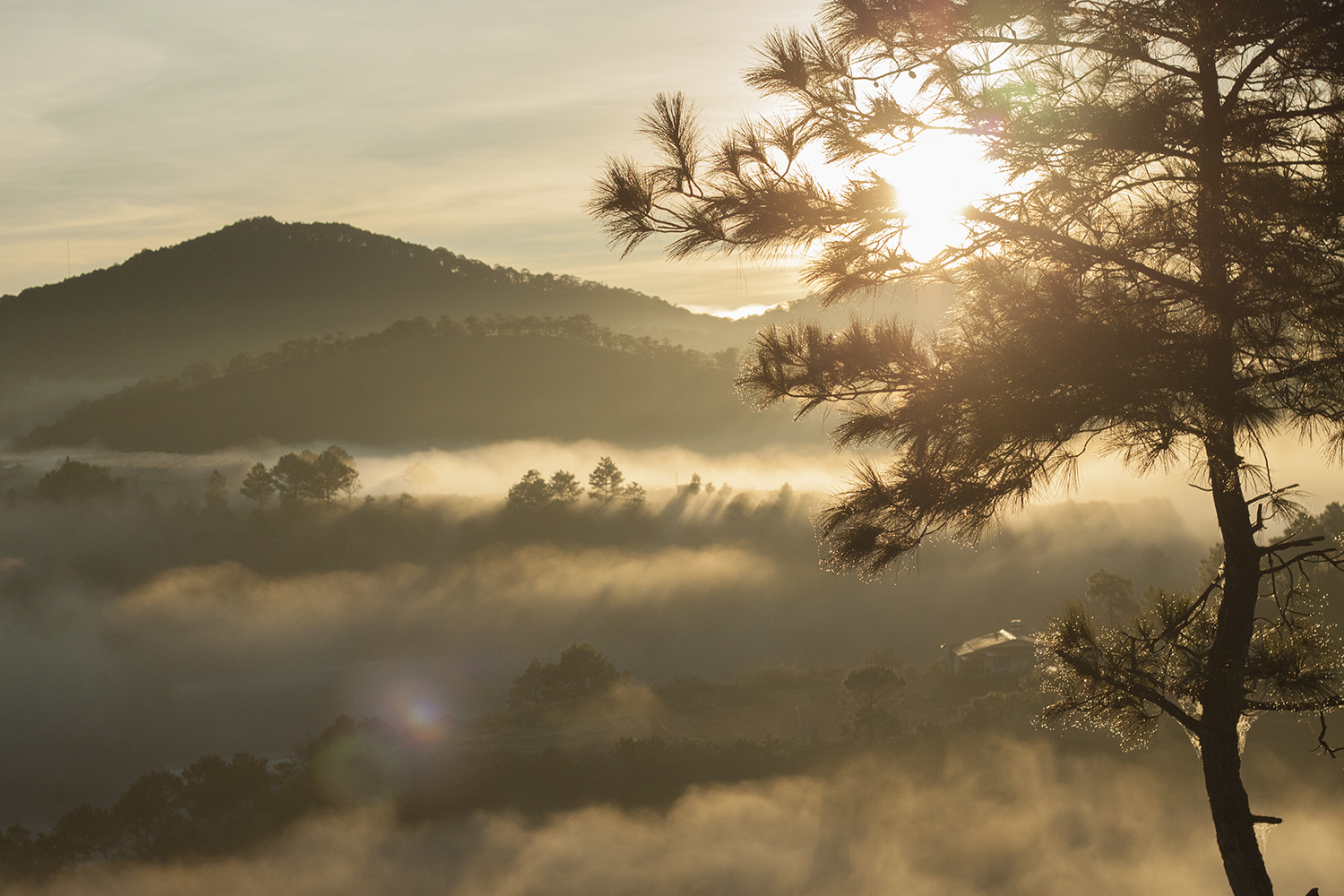 The early morning sun's bright rays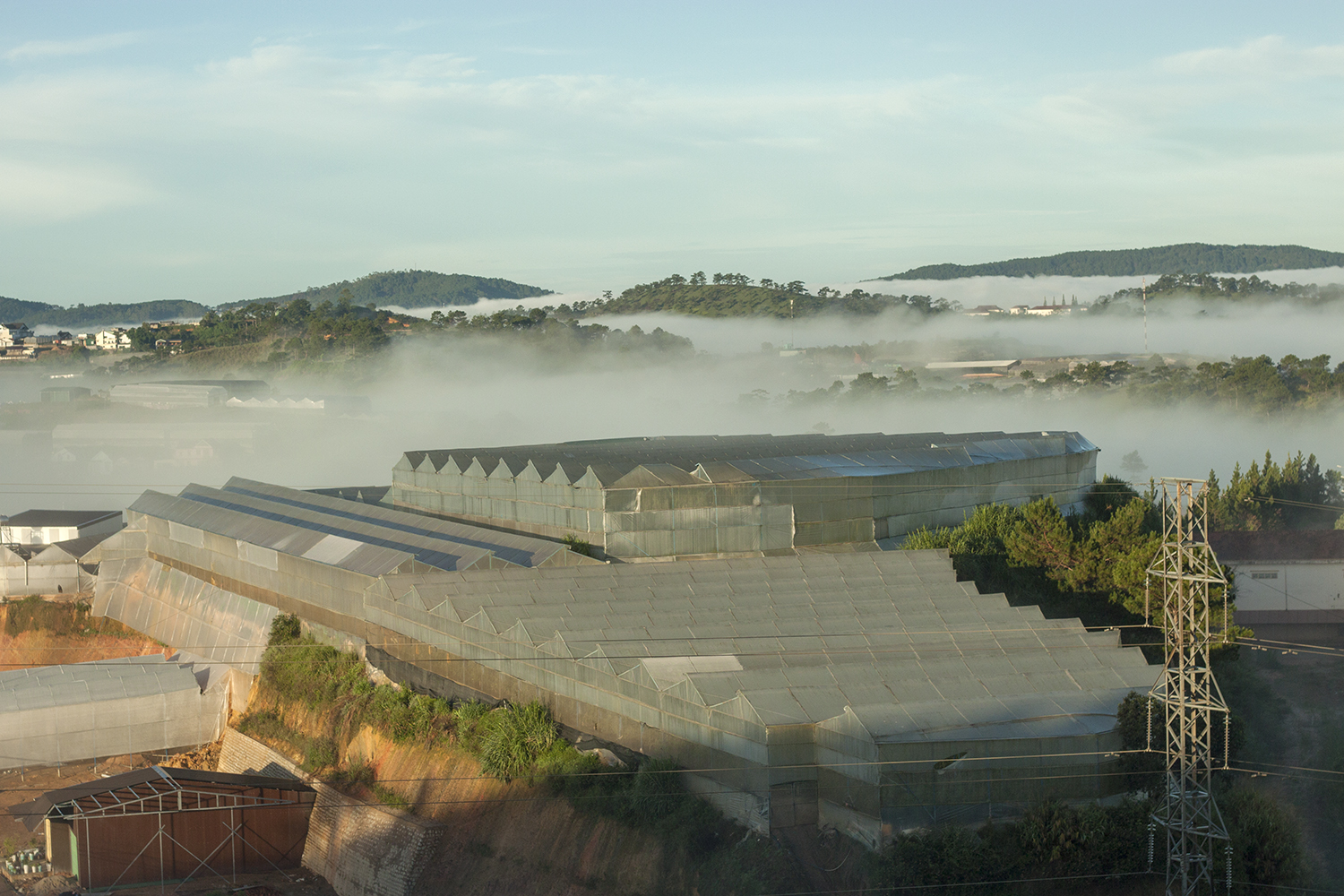 Dew and clouds have blurred a corner of Dalat city.
Some observations made while "cloud hunting" on Thien Phuc Duc Hill
Before going "cloud hunting" one day, check the weather forecast. If there was rain the night before and it is clear and cloudy the next morning, the chances of seeing the sea of clouds are very high.
If you're traveling by motorcycle alone, make sure to check your car's equipment, fill up your tank, notify your hotel that you'll be leaving early the next morning, allow them to park your car outside for easy access, and quickly open the door when you call.
Before going to bed, keep an eye on the alarm clock. The most beautiful sea of clouds can be seen just before dawn when the sun has just risen. Check the sunrise time the next morning, as well as the distance from where you stayed overnight to Thien Phuc Duc Hill, so you can set your alarm clock and leave on time.
Dalat weather will be very cold in the early morning, around 15-17 degrees Celsius, or sometimes lower, depending on the time. As a result, you should dress warmly, including a full coat, shawl, handkerchief, socks, and so on.
It was still dark when we arrived at the foothills. You should bring a flashlight (or use the flashlight on your phone) and, especially, a pair of comfortable walking shoes for the rough road up the hill. If you travel during the rainy season, this road will be smoother and more difficult to navigate.
Thien Phuc Duc Hill, as previously stated, is not a tourist destination, so there is almost no food service for visitors. You can prepare food to satisfy hunger, make tea, and bring coffee to "chill" with friends on the hilltop while watching the sunrise.
It is also critical to remember to fully charge your phone, as well as your photography and videography equipment. You can also bring a spare battery charger because the sea of clouds or sunrise from Thien Phuc Duc hill will have you pressing nonstop.
The sea view of clouds or sunrise from Thien Phuc Duc hill is spectacular, and you will want to shoot nonstop.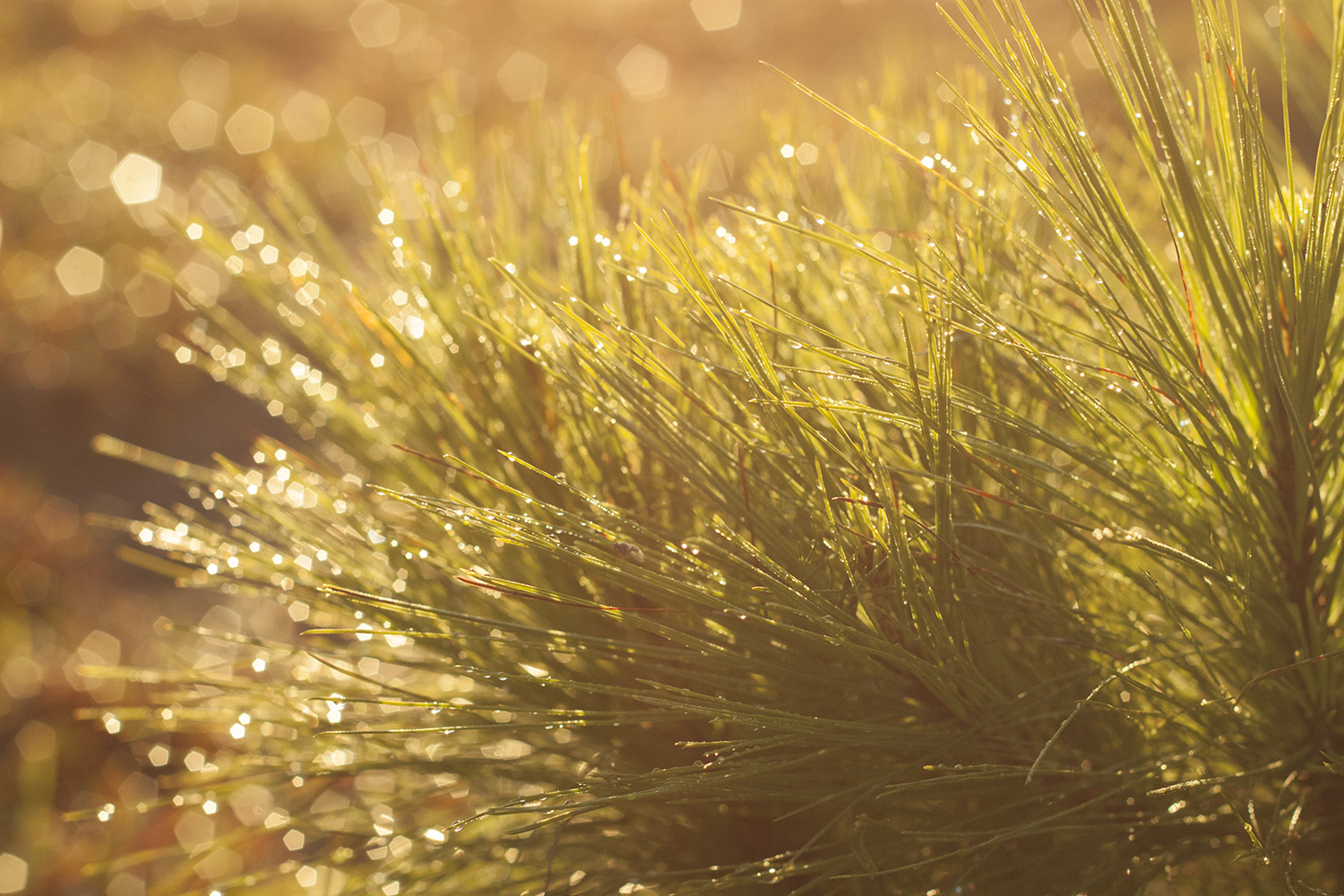 In the iridescent yellow of dawn, downy dew settles on the pine leaves.
If you enjoy backpacking and have had many encounters with nature, you can also camp on your own right on the top of the hill, so that when you wake up the next morning, there is already a "fairytale" waiting place.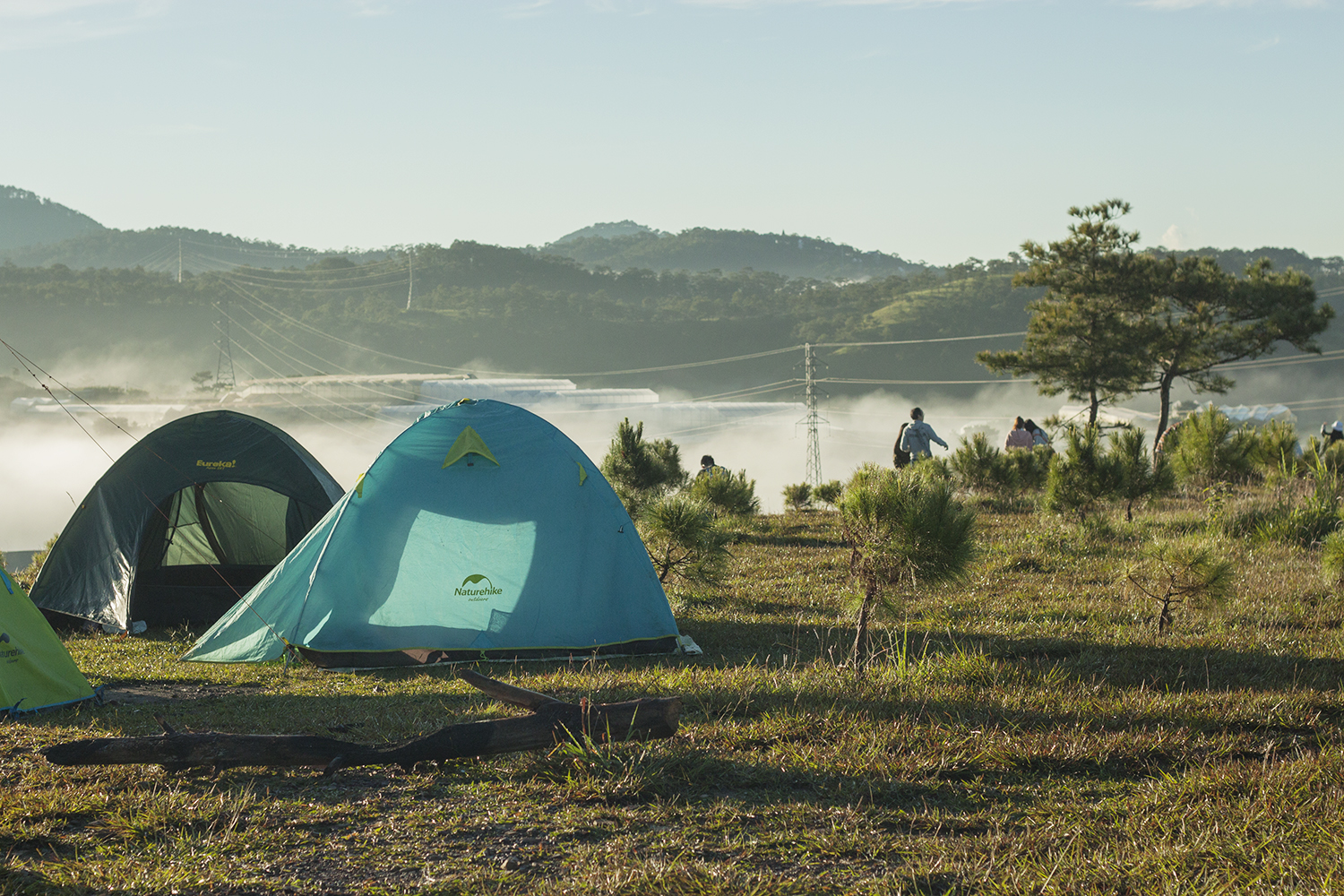 Thien Phuc Duc Hill is a popular camping spot for visitors.
Finally, be a considerate and environmentally conscious traveler. Do not run or play too much because it is dangerous and can affect other visitors. Take nothing but photographs and leave nothing but footprints, as the tourist maxim goes.
Source: Nguyễn Thị Bình An